Kindle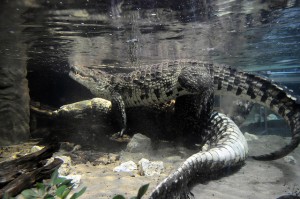 A couple of weeks ago, I posted a link to a research paper on crocodile genitalia, which included a really helpful diagram showing how the male crocs' penis works as part of an all-purpose mating/elimination hole called a cloaca. Now, with the help of reader Eirik Lande, you can see what those genitals look like in, er, action. The above photo is part of a series of shots Lande took of a 661-pound Nile crocodile named Samson (and an unnamed/weighed female partner) as they did what comes naturally in a tank at Bergen, Norway's, Akvariet zoo.
For clarification, that's the female on top in this shot, but they started out in a different position. In Lande's photos you can see the two crocodiles flip, with the help of a "death roll" style move near the end of their mating. That photo is a bit more explicit, but gives you a fairly clear view of what it looks like when Samson shoves his genitals out of his cloaca.
Maggie Koerth-Baker is the science editor at BoingBoing.net. She writes a monthly column for The New York Times Magazine and is the author of Before the Lights Go Out
, a book about electricity, infrastructure, and the future of energy. You can find Maggie on Twitter and Facebook.
Maggie goes places and talks to people. Find out where she'll be speaking next.
More at Boing Boing