Read more at Boing Boing
Read more at Boing Boing
Read more at Boing Boing
---
A leaked internal Microsoft video attacks Google's Chrome Everywhere campaign, drawing pointed attention to Google's program of monetizing personal information, extending Microsoft's "Scroogled" attack ads that characterize Google as a surveillance company.
---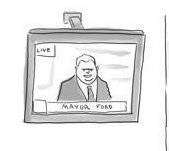 Toronto Mayor Rob Ford has distinguished himself again, becoming the first mayor in Toronto history to be the punchline of a New Yorker cartoon.
---
Anders writes, "I've launched a Kickstarter campaign to publish my novel the Jörgits as a hardcover book. It's an all-ages illustrated novel about a group of aliens whose planet has become too cold for them.