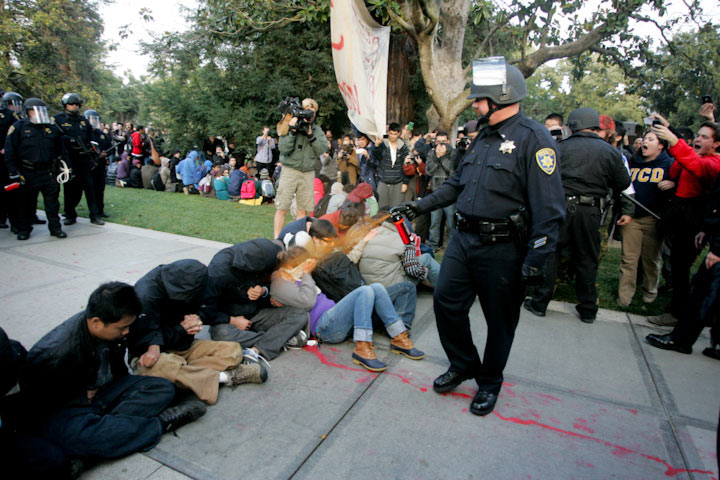 Photo:Brian Nguyen/The Aggie.
22-year-old UC Davis student W. (name withheld by request) was one of the students pepper-sprayed at point-blank range Friday by Lt. John Pike while seated on the ground, arms linked and silent.

W. tells Boing Boing that Pike sprayed them at close range with military-grade pepper spray, in a punitive manner. Pike knew the students by name from Thursday night when they "occupied" a campus plaza. The students offered Pike food and coffee and chatted with him and other officers while setting up tents. On Friday, UC Davis chancellor Linda Katehi told students they had to remove their #OWS tents for unspecified "health and safety" reasons.

"Move or we're going to shoot you," Pike is reported to have yelled at one student right before delivering pepper spray. Then, turning to his fellow officers and brandishing the can in the air, "Don't worry, I'm going to spray these kids down."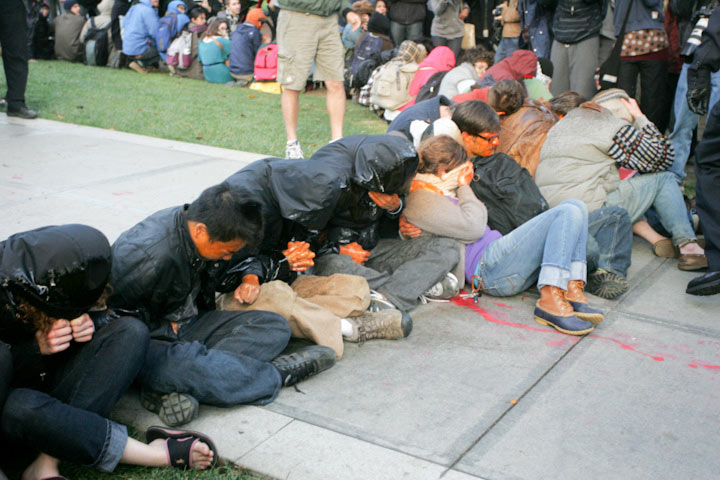 Photo:Brian Nguyen/The Aggie.
XJ: So, we see in the videos and photos that you were one of the students pepper-sprayed by Lieutenant John Pike yesterday. How are you doing today?
W: I still have a burning sensation in my throat, lips and nose, especially when I start coughing, or when I'm lying in bed. Everyone who got sprayed has sustained effects like this.
XJ: Can you tell us how it happened, from where you were sitting?
W: I'd pulled my beanie hat over my eyes, to protect my eyes. I received a lot of pepper spray in my throat. I vomited twice, right away, then spent the next hour or two dry heaving. Someone said they saw him spray down my throat intentionally, but I was so freaked out, and I was blinded by my hat, so I can't verify. I did get a large quantity of pepper spray in my lungs.
Another girl near me who has asthma had an attack triggered by the pepper spray, and she was taken to the hospital.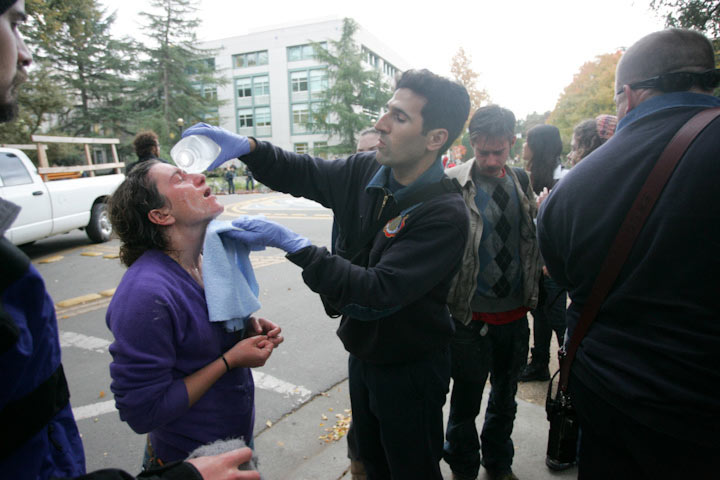 Photo:Brian Nguyen/The Aggie.
He used military grade pepper spray on us. It's supposed to be used at a minimum of 15 feet. But he sprayed us at point blank range. Another student, 20 years old, who was sprayed and then arrested—instead of receiving medical care for the pepper spray exposure, he was made to wait in the back of a police car. His hands were sprayed, and he had intense burning in his hands throughout the evening while he was being held. He asked a police officer what they could do to stop it, and they refused to give any advice.