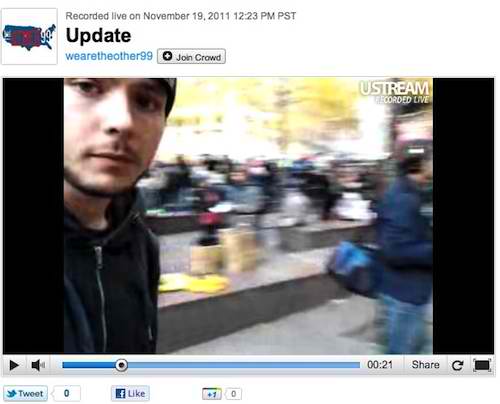 Webcaster Tim Pool of "The Other 99."
In recent weeks, one source of live news coverage for the Occupy Wall Street movement stood out above all others. Not a cable news network, not a newspaper, but a 25-year-old guy named Tim Pool. He packs a smartphone with unlimited data, a copy of Ustream's mobile video streaming app, and a battery pack to keep it all going — which he has for 21 hours straight, on big news days. Soon, Tim and team plan to have have their own hacker-made flying camera-drones, to provide aerial footage TV news chopppers can't. The guerrilla web stream "The Other 99" has reached more than 2 million unique viewers over the last two months, and become a source of eyes on the ground unmatched by big media. The project runs solely on donations. Is The Other 99's webcast the start of a new news normal, and could Pool be one of many DIY backpack broadcasters to come? I tracked him down in New York between streams to find out what he thinks, and how and why he does what he does. — XJ
Xeni Jardin: Break down your current gear setup for us, would you?
Tim Pool: The backpack I use is just a regular backpack. My gear is a Samsung GALAXY S II (on Sprint, because they offer unlimited data) and an Energizer XPAL 18000, and I literally slide the external battery into my back pocket and I plug my phone into it. That's pretty much it.
Xeni Jardin: And that equipment was purchased for you with donations?
Tim Pool: The Energizer battery, yes. The cellphone is just my cellphone.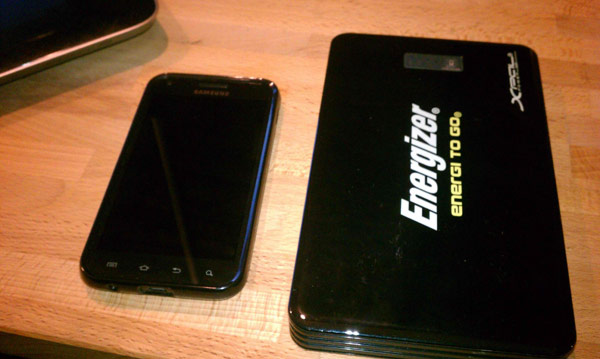 Tim Pool's gear kit for the "The Other 99" web stream. Yup. That's all.
Xeni Jardin: Where are you from?
Tim Pool: Chicago. I came up to New York on the fourth day of the Occupation, up from Newport News, VA. I had been staying there with my brother, working with friends to create a community skate park and producing videos to show how to do some of my favorite skateboard tricks.
Xeni Jardin: And what inspired you to come up to OWS?
Tim Pool: I knew about Occupy Wall Street a little bit before it happened. The financial sector problems happening in this country, government corruption and collusion with big corporations, all of that concerned me. So this spoke to me. When I first heard about it, I was skeptical that people wouldn't actually stand their ground. I'd become jaded over the years as an activist and nonprofit volunteer, and didn't have much hope.
But then, I saw this video of police brutality at Occupy Wall Street. The officers were arresting a man, and they grabbed him by his ankles and started dragging him by his hands. When they let go, you could see that his hands were bleeding. That really riled me up.

Read the rest