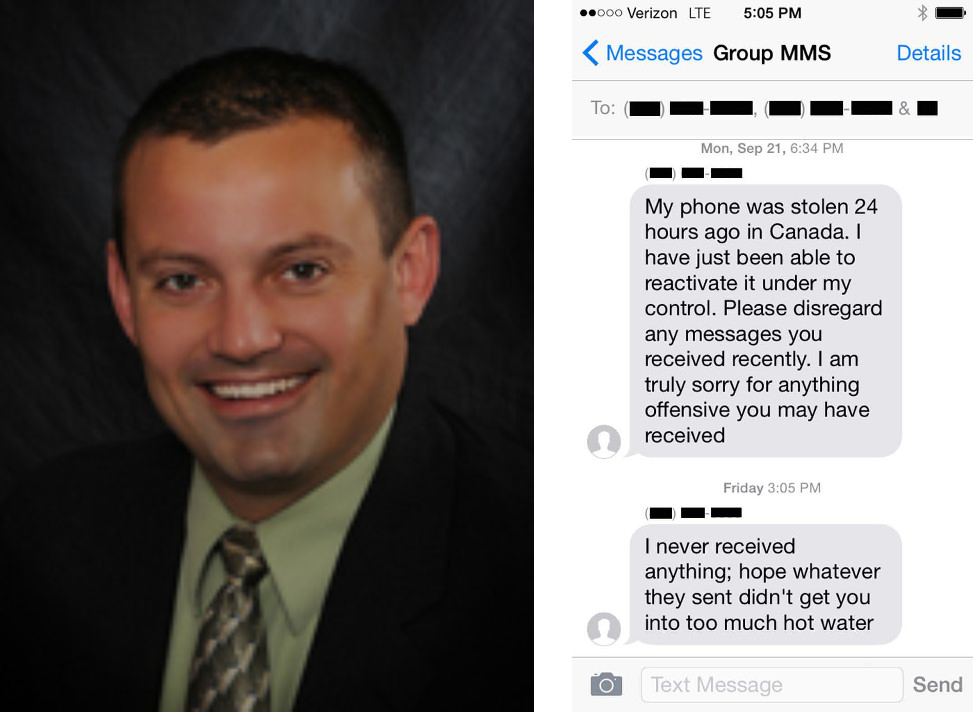 After sending the sex-video to his entire contact list, Republican Indiana Rep Jud McMillin sent out a mass-text saying that his phone was stolen in Canada and had only just been returned; he asked recipients to "please disregard any messages you received recently. I am truly sorry for anything offensive you may have received."
[Insert joke about imaginary summer-camp girlfriends from Canada here.]
He subsequently resigned his seat, saying he wanted to spend time with his family. He conspicuously did not mention the video, but did excoriate haters, saying that their criticism made society "a sad place."
McMillin campaigned for a notorious bill that gave business owners the right to discriminate against gay people if they thought Jesus wanted them to. He also opposed same-sex marriages.
When McMillin was a prosecutor, he was removed from a case after he had sex with a domestic abuse survivor and subsquently sent her explicit sexual texts; he also was kicked out of university for stealing from his varsity sports team-mates.
"I make mistakes. When I do, regardless of how big or small they are, I do my best to admit them, own up to it, and then start doing my best to remedy them. That's what I am doing right now with my family. With that being said I will never understand the need for some people to spew hatred. I hope it makes those people feel better about themselves because there is no other discernable [sic] benefit. What a sad place for society to be. On the other hand, I am constantly amazed at how good hearted so many people are. The outpouring of support I have received from so many gives me faith and hope in humanity as a whole. To those who choose this path, I encourage you to maintain your approach not only towards those you agree with and like, but towards those you disagree with as well. This is the only approach that can possibly help make the world a better place."
"Family Values" Lawmaker Resigns After Sexting Contact List With Pictures Of Affair
[Robyn Pennacchia/The Frisky]
---