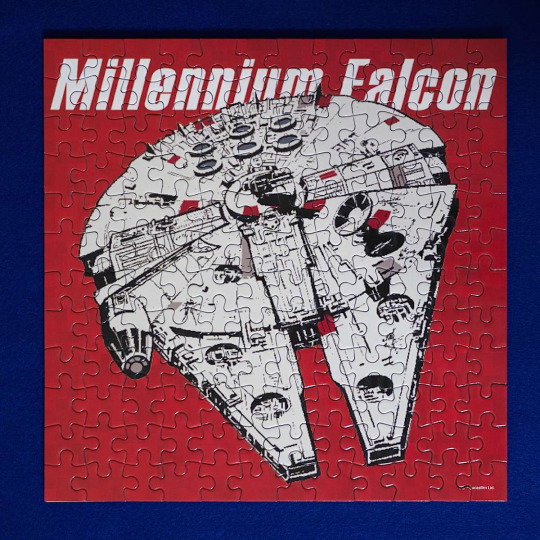 Everyone has their favorite space ship. For some, it's the Enterprise, for others it's Red Dwarf, or Battlestar Galactica. It might even be the TARDIS. But for my money, it is, and has always been, The Millennium Falcon. The ship that made the Kessel Run in less than twelve parsecs. The fastest hunk of junk in the galaxy. The iconic space ship that helped launched one of the biggest movie franchises of all time.
Now, in this puzzle from Tenyo, our favorite freighter has been given a pop-art makeover, complete with sporty red background and stylized lettering. She's posed at a jaunty angle, ready to jump into light speed the second Chewie gets it working again. Really, it's a fun cross between an '80s car poster and the movie poster for The Endless Summer.
The puzzle itself measures about one foot by one foot when assembled. It is 144 pieces, but with only three colors, it is not quite as easy as the piece count might suggest. It is made from standard puzzle quality cardboard; the pieces fit together very well, with little coaxing or massaging needed to assemble the puzzle. The image is bright, clear and solidly printed on the cardboard.
The puzzle set includes a panel - frame, plastic cover, white card stock puzzle back, and cardboard frame back - as well as puzzle glue, cardboard glue scraper, and a string to hang the frame. The puzzle sits in the frame well and the plastic cover sheet allows framing without gluing for those who may wish to do the puzzle multiple times. (The glue packet has instructions in English.)
The set is an excellent gift for anyone who falls in the venn diagram of liking Star Wars, jigsaw puzzles, and decorating their personal space. And for those who can't get enough pop remixes, Tenyo has produced two more puzzles in this series: a stormtrooper helmet reworking of a 60s flower child poster and a Darth Vader in the comic style of Roy Lichtenstein.
– Joel Neff
Millennium Falcon jigsaw puzzle
by Tenyo
144 pieces, includes glue and frame with hanger