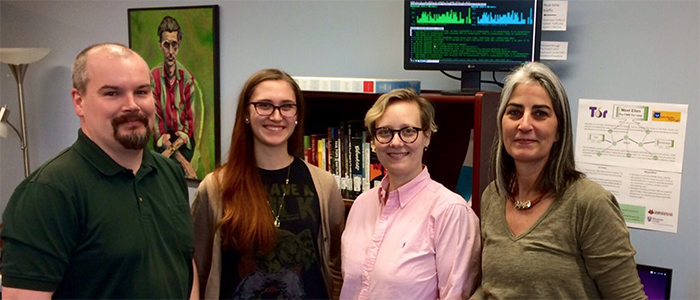 Library workers at Western University's Graduate Resource Centre in London, Ontario, had a workshop from Alison Macrina, the library organiser whose Library Freedom Project won a battle with the US DHS over a library in New Hampshire that was offering a Tor exit node as part of a global network that delivers privacy, censorship resistance, and anonymity to all comers.
Western's librarians were so taken by Macrina's presentation that they've turned on Canada's first library-based Tor node. There is no clear law in Canada about libraries and Tor, and Macrina and the Western library folks say they're spoiling for a fight.
Boing Boing's server is hosted in Toronto, where we operate our own Tor node. We've been repeatedly contacted by law enforcement regarding our Tor node -- even got a US federal subpoena -- but when we explained it was a Tor node we didn't control or keep records on, all the cops we dealt with said, OK, thanks, bye. End of story.
"It's great news to see more libraries and universities running Tor nodes," Ian Goldberg, a University of Waterloo professor and inventor of the popular OTR encryption protocol, who operates a Tor exit node at the school, wrote me in an email. Goldberg noted that a middle relay should have no issues, legally, although exit node operators often "get annoyed by people on the Internet contacting them to ask why they are attacking various websites, sending them [copyright] notices for sharing content (in the US), etc."

Tor use has been raised in at least one criminal case involving child pornography in Canada. Toronto police also told Motherboard last year that the force has investigated people operating Tor exits in the past, particularly in cases involving child pornography. At the time, the Canadian Civil Liberties Association (CCLA) said they had "nothing to add" on the subject.

When asked if the CCLA would support Western staff if Canadian law enforcement pressured them to shut their node down, however, spokesperson Jonah Kanter said, "In principle we are in favour of tools that protect privacy and will continue to research how Tor nodes can help accomplish that."
Canadian Librarians Must Be Ready to Fight the Feds on Running a Tor Node
[Jordan Pearson/Motherboard]
Library in FIMS joins global network fighting back against digital surveillance, censorship, and the obstruction of information [Western Fims]