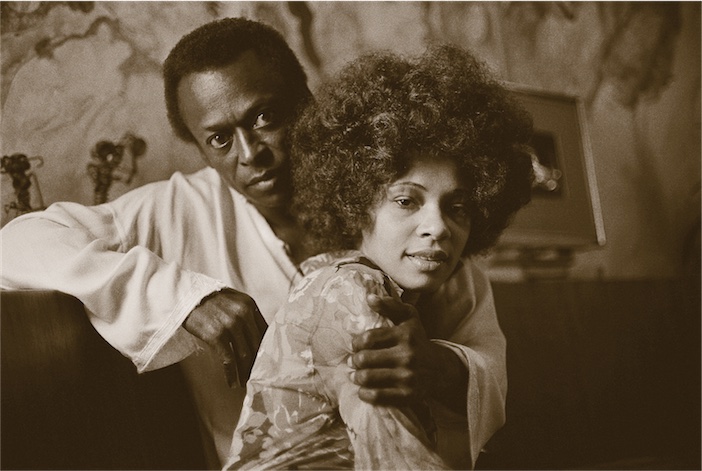 In 1969, high priestess of funk Betty Davis recorded two legendary sessions produced by her then-husband Miles Davis at Columbia's 52nd Street Studios in Manhattan. The band consisted of Mitch Mitchell (Jimi Hendrix Experience drummer), John McLaughlin (guitar), Herbie Hancock (keys), Billy Cox (Band of Gypsys bassist), Wayne Shorter (sax), and Larry Young (organ). Teo Macero co-produced. In nearly 50 years, those jams have never been officially released or even bootlegged. Now though, they are available for the first time from the fine folks at Light in the Attic Records. Teaser video below. From the label:
These historic sessions—never heard, never bootlegged—predate Miles' revolutionary album, Bitches Brew, and are the true birth of Miles' jazz-rock explorations, along with the roots for Betty's groundbreaking funk that came years later, starting with her self-titled debut in 1973. ...


The vibe is intrinsically unique, fresh, and futuristic—jazz heavyweights playing psychedelia, rock, and jazz-fusion long before the term became commonplace. The songs include Betty originals and covers of classics by Creedence and Cream. The concepts explored on these previously unheard sessions fueled concepts that wouldn't be fully realized until years later with Miles' seminal On The Corner...

This deluxe package is a treasure trove for both Betty and Miles fans, including rare documents from the pen of co-producer Teo Macero, rarely seen photos from legendary photographer Baron Wolman, and new interviews with Mrs. Davis herself, Harvey Brooks, and Hugh Masekela—the entire project overseen with Betty's full blessing.

Betty Davis: The Columbia Years 1968-1969