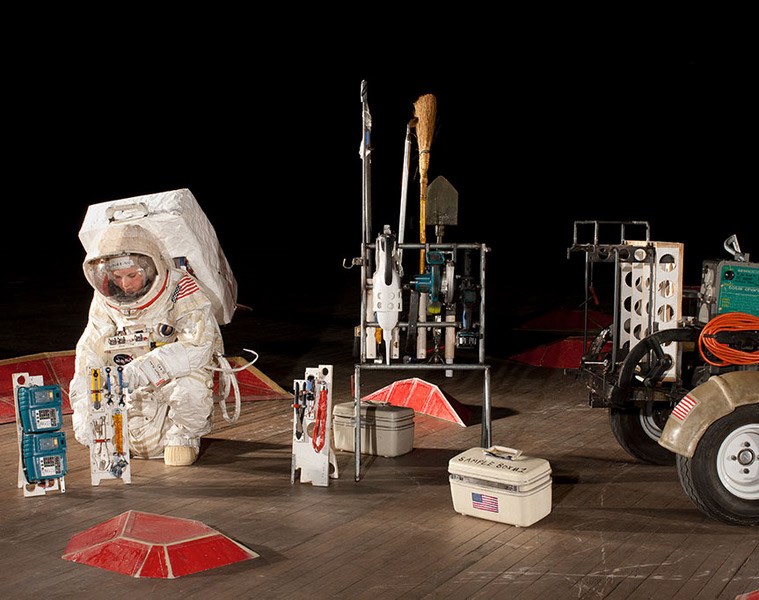 In Wired, our pal Adam Savage geeks out with Tom Sachs, a sculptor who makes incredibly intricate space-themed installations:

(Sachs had) mounted two Space Program exhibitions—the moon (at Gagosian Gallery in Beverly Hills) in 2007 and then Mars (at the Park Avenue Armory in New York) in 2012. There were the blue Tiffany Glock and orange Hermès hand grenade, and also a Chanel chain saw and a Prada toilet. And a foam-core R2-D2, which I'd collected pictures of as inspiration for building my own DIY Artoo, a decade before I knew who Sachs was.



We had a lot in common. We're both obsessive organizers. We both make replicas. And when we're in the shop and can't think of what to work on, we build infrastructure—stands, shelves, benches. Sachs told me he'd cribbed construction ideas from MythBusters Now he uses my workshop when he's on the West Coast, and I use his when I'm back east. Our wives describe our relationship status as "dating."



When I look at Sachs' workshop, what's more familiar to me than the tools are the rituals, the signs of how Sachs turns prosaic objects and materials into art.

"Ground Control to Major Tom" by Adam Savage (Wired)