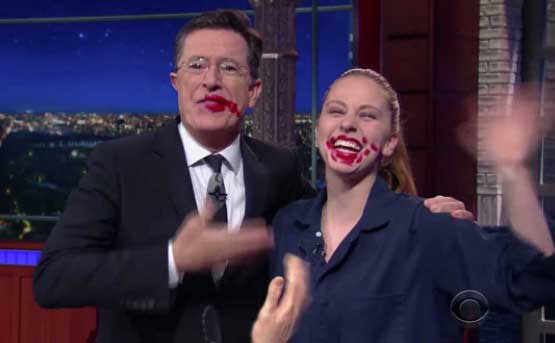 Our guest this week on the Cool Tools Show is Simone Giertz. Simone is a Swedish native who now resides in San Francisco. Millions of people come to watch her build shitty robots on YouTube and she recently launched her own astronaut training program to get herself into space. Simone's videos have been featured on The Ellen Show, The Late Show, Mashable, Business Insider, Wired, Conan O'Brien, and more. Whilst most recently joining master builder Adam Savage's tested team.
Subscribe to the Cool Tools Show on iTunes | RSS | Transcript | Download MP3 | See all the Cool Tools Show posts on a single page
Show notes:

Dremel 4200 ($(removed))
"I started building stuff about 3 years and I'm rediscovering everything that people have known for a long time. … Dremel tool kind of goes in the line of that … it blew my mind because I do a lot of aluminum fabrications. I make parts out of aluminum frames or customized parts that I already have and for that it's freakin' great because it's like having your own arm do it but at a much higher RPM. It's like a little pen. It's just such an accessible tool. You're just sitting there and you're cutting. It has the tiniest little cutter blades and it's just nice. … It's a super versatile tool and it takes up no space."
Original Prusa i3 MK2S kit ($(removed))
"I am definitely not an authority in 3D printing. I am a total 3D printing novice. I think in some way that gives me a bit of authority to speak on this because I've used a fair amount of 3D printers and I'm always like, 'I have no freaking idea what's going on.' ... The Prusa has, from the start, worked brilliantly. It's a really open design. … It looks like a very maker printer because you can definitely tinker with it without having to take some big casing off. … This is the first 3D printer that has worked well enough to me to actually use it on a regular basis."
Glowforge laser cutter($(removed))
"One of many unique features that it has is that you have a view. It's all in the browse. You just go on your printer's domain or you log into your account and there you have the bed view of your printer. You can see the material and that's where you upload and place the designs. You can also scan stuff on it. You can draw something on the material and it scans it and then it can etch it or rasterize it. It's really an improvement of the work flow."
Shaper Origin ($(removed))
"This is a great tool. I'm not sponsored. They did let me take home their beta version and try it out. It's a handheld milling machine. Basically you load an SVG on it — a file. Your design. …Just like a CNC machine but it's handheld. … Then it auto corrects your path. It shows you where to move out. … You could be making the map of the United States on your wall in your bedroom and just hold it up on the wall. I think it's just such a ... it's super cool and it works. I've just tried their beta version. I haven't tried the final version but I'm really impressed with the capabilities of the beta version. It's just worked really. really great. … You can do a cut halfway through and then take a break for a couple of weeks and then get back to it and keep on doing it and it knows where it laid out all the parts."
Hitachi KNT50AB Air Compressor ($(removed))
"The virtues of an air compressor. Where do I start? Most of all, building robots and tinkering with electronics used to be my hobby and then it became my job. I had to find a new hobby. I've been doing a lot of wood working in my free time. I do it at home. I have a little workbench in the garden. I've always covered in sawdust. Just being able to blow off my tools before I bring them into my bedroom is amazing."
Simone recently wowed Stephen Colbert with her dangerous, shitty robots: