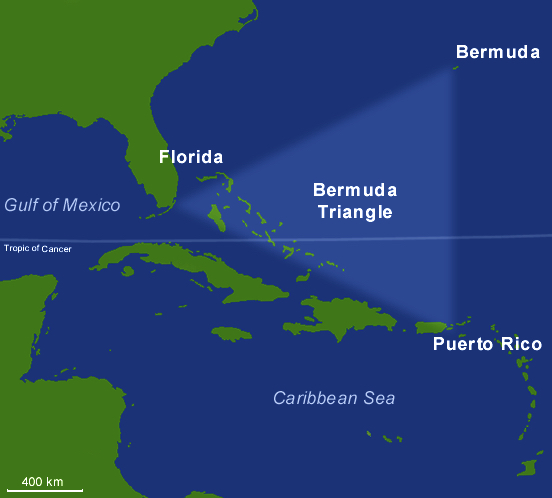 On Monday, a small plane with two adults and two young children disappeared from radar over the Bermuda Triangle. The Coast Guard has recovered parts from the plane but are still searching for the passengers, Jennifer Blumin, 40, her 3 and 4-year-old sons, and Nathan Ulrich, 52. Since the 1950s, the Bermuda Triangle, an area between Bermuda, Puerto Rico, and Florida, has been infamous for what many believe is a disproportionate number of mysterious aircraft and boat vanishings or accidents. From
ABC News
:
The plane was scheduled to fly from Puerto Rico to central Florida, but never arrived at its destination, according to the Coast Guard.

Miami Air Traffic Control reported that it lost radar and radio contact with the airplane just three hours into the flight, the Coast Guard added in a statement.

"There's no indication of significant adverse weather at the time," Lt. Cmdr. Ryan Kelly, a Coast Guard spokesman, told The Associated Press.
#Update #HappeningNow @USCG Cutter Bernard C. Webber to continue search for survivors east of Eleuthera, Bahamas, through the night. pic.twitter.com/T2MMQOqLN3

— USCGSoutheast (@USCGSoutheast) May 17, 2017
#Update @USCG image of debris, confirmed components of an MU-2B aircraft recovered 15 miles E of Eleuthera, Bahamas; search continues. pic.twitter.com/lP0lSX0bld

— USCGSoutheast (@USCGSoutheast) May 17, 2017