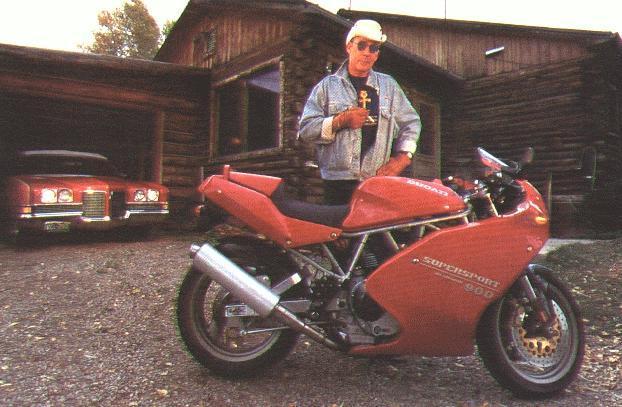 In Song of the Sausage Creature Hunter Thompson captured everything that is wonderful about cafe racers.

This review of Ducati's legendary 900 Supersport is perfect:
...When Cycle World called me to ask if I would road-test the new Harley Road King, I got uppity and said I'd rather have a Ducati superbike. It seemed like a chic decision at the time, and my friends on the superbike circuit got very excited. "Hot damn," they said. "We will take it to the track and blow the bastards away."

"Balls," I said. "Never mind the track. The track is for punks. We are Road People. We are Cafe Racers."

The Cafe Racer is a different breed, and we have our own situations. Pure speed in sixth gear on a 5000-foot straightaway is one thing, but pure speed in third gear on a gravel-strewn downhill ess-turn is quite another.


But we like it. A thoroughbred Cafe Racer will ride all night through a fog storm in freeway traffic to put himself into what somebody told him was the ugliest and tightest decreasing-radius turn since Genghis Khan invented the corkscrew.

Cafe Racing is mainly a matter of taste. It is an atavistic mentality, a peculiar mix of low style, high speed, pure dumbness, and overweening commitment to the Cafe Life and all its dangerous pleasures... I am a Cafe Racer myself, on some days - and it is one of my finest addictions.

I am not without scars on my brain and my body, but I can live with them. I still feel a shudder in my spine every time I see a picture of a Vincent Black Shadow, or when I walk into a public restroom and hear crippled men whispering about the terrifying Kawasaki Triple... I have visions of compound femur-fractures and large black men in white hospital suits holding me down on a gurney while a nurse called "Bess" sews the flaps of my scalp together with a stitching drill.

Ho, ho. Thank God for these flashbacks. The brain is such a wonderful instrument (until God sinks his teeth into it). Some people hear Tiny Tim singing when they go under, and some others hear the song of the Sausage Creature.

When the Ducati turned up in my driveway, nobody knew what to do with it. I was in New York, covering a polo tournament, and people had threatened my life. My lawyer said I should give myself up and enroll in the Federal Witness Protection Program. Other people said it had something to do with the polo crowd.

The motorcycle business was the last straw. It had to be the work of my enemies, or people who wanted to hurt me. It was the vilest kind of bait, and they knew I would go for it.

Of course. You want to cripple the bastard? Send him a 130-mph cafe-racer. And include some license plates, he'll think it's a streetbike. He's queer for anything fast...