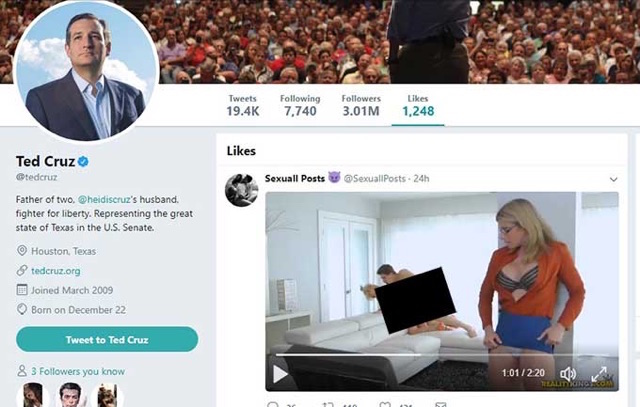 Texas Sen. Ted Cruz may be having too much fun with himself on Twitter after he liked a two-minute porn clip early Tuesday morning. Cruz, or whoever could have possibly been in charge of his official account, stated the senator's approval of a video featuring a woman secretly stimulating herself once she stumbles upon some hardcore sexual acts within her own home.
A spokeswoman for Cruz said the "offensive" clip that was "posted" had been removed and reported, although her statement mistakenly suggests the tweet was posted instead of liked, according to the New York Daily News.
The account @SexuallPosts currently has a pinned tweet thanking the former Texas solicitor general – who in 2007 tried to ban the purchase of sex toys – for watching the video on their account.
Here is a younger Cruz talking about how he wants to be in a "teen tit film." Wonderful.