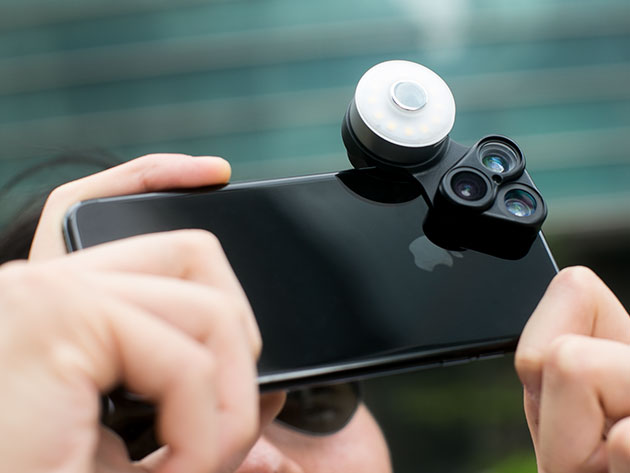 To make the day after Thanksgiving a stress-free shopping experience, we've selected some of the best items from our online shop to be marked down for Black Friday. Check out our complete collection of Black Friday deals here. The following items are available for the lowest prices anywhere to welcome the holiday season:
MSRP: $199 | Normal: $41.99 | Black Friday: $36.99
Buying Bluetooth earbuds is an exercise in compromise, often forcing you to choose between price, battery life, and sound quality. The TREBLAB X11 Earphones are a rare exception — they deliver crystal-clear HD sound with minimal lag, and work in stereo for up to 6 hours straight on a single charge. As an added bonus, they also pair with multiple devices for painless audio source switching. They usually cost $200, but we stock them for $41.99, and you can pick them up on Black Friday for just $36.99.
RevolCam: The Multi-Lens Photo Revolution for Smartphones
MSRP: $59.99 | Normal: $34.99 | Black Friday: $29.99
Step up your smartphone photography game with a RevolCam. It clips onto your device to provide 3 different lens options with a unique rotating mechanism, as well as a detachable LED lamp to light your scene. It uses the magnetic backing to work with nearly any major smartphone, iOS and Android alike. The retail value is $59, and we're dropping our price from $34.99 to $29.99.
The Complete Computer Science Bundle
Value: $367 | Normal: $39 | Black Friday: $25
Unlike many online coding resources that stop at web development, the Complete Computer Science Bundle covers the fundamentals of programming, data structures, and algorithms. Throughout these 8 courses, you'll get a lower-level understanding of computing concepts that apply to a wide variety of technology stacks. It's a $367 value, and we usually have it for $39, but it's been marked down to $25 for Black Friday.
MSRP: $99 Normal: $64 | Black Friday: $54.40 (use GIFTSHOP15 at checkout)
The SKEYE Nano 2 FPV Drone is small enough to fit in the palm of your hand, and comes equipped with an HD camera that streams video to your phone in real-time. Aside from FPV flight, it's capable of amazing acrobatic stunts at the press of a button. This ready-to-fly drone is being offered for 35% off the usual $99 price — just $54.
VPN Unlimited: 3-Yr Subscription
Value: $129 | Normal: $29.99 | Black Friday: $24 (Use BFRIDAY20 at checkout)
Take control of your online privacy with a 3-year subscription to VPN Unlimited. This acclaimed virtual private network service has servers in 53 locations worldwide to provide a fast, encrypted connection for up to 5 devices simultaneously. It works with a wide variety of mobile and desktop platforms, as well as wireless routers. This subscription is typically $130, but you can get 3 years of VPN Unlimited for $24 from the Boing Boing Store — and take an extra 20% off with code BFRIDAY20.
Raspberry Pi 3 + Speech Controlled Smart Robot Car Kit
Normal: $169.99 | Black Friday: $136 (use BFRIDAY20 at checkout)
Dive into the Raspberry Pi computer and discover the fundamentals of hardware hacking with this Raspberry Pi 3 + Speech Controlled Smart Robot Car Kit. After putting everything together your creation will respond to human voice commands using speech-to-text, and communicate back with text-to-speech for intuitive control. This kit comes with everything you need for $170, and you can save 20% at checkout when you enter BFRIDAY20.
Value: $1,200 | Normal: $59 | Black Friday: $25
With billions of internet-connected things in the wild, Information Security is a rapidly growing field. In this Ethical Hacking A to Z Bundle, you'll get familiar with a wide variety of penetration testing techniques and learn how to hack into Android devices and web services. These 8 courses are worth over $1,000 separately, but we usually sell the whole collection for $59. And just in time for the holidays, you can pick it up for $25.
MSRP: $120 | Normal: $79.99 | Black Friday: $39.99
Jump is a subscription service for scores of web-based indie games. They have over 60 fast-paced titles, and add new curated selections every month to give you the best interactive online experiences without waiting for huge downloads. A year's subscription to Jump is worth $120, but we're offering the same deal for $39.99 on Black Friday — $40 less than our usual offer.
Hyperchiller Coffee Chiller: 2-Pack
MSRP: $60 | Normal: 54.99 | Black Friday: $45
Enjoying cold coffee usually requires a 24-hour wait while your brew steeps in the fridge, but the Hyperchiller turns any hot beverage ice-cold in just a minute without watering it down. It uses a unique multi-chamber design to keep the ice separate from your drink and can hold 12.5 oz of liquid at a time. The MSRP of this 2-pack of Hyperchillers is $60, and we're dropping our $54.99 discount to just $45.
uTalk Language Education: Lifetime Subscription
Value: $64.99 | Normal: $19.99 | Black Friday: $9.99
uTalk is a highly-effective language learning system that gets you conversing in a new tongue as quickly as possible with interactive games and lessons from native speakers. It tracks your progress online so you can practice on any device, anywhere. And uTalk lets you choose from a massive selection of 130 world languages, so you can get fluent in something less common than what's typically offered in school. You can get lifetime access from our store for an extra $10 off, just $9.99.
Check out the rest of our Black Friday deals here!