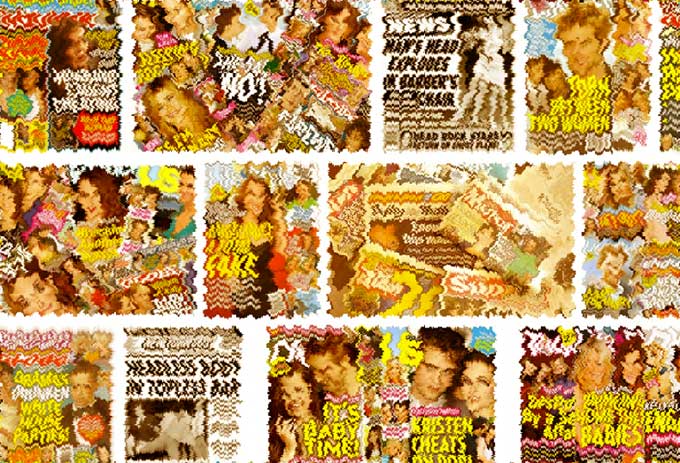 What's old is new again in this week's tabloids, which plunder the past for today's headlines.
Child pageant queen JonBenet Ramsey was murdered in 1996, but the National Enquirer claims that its "investigation finally solves" the slaying. The magazine, which has in the past alternately blamed JonBenet's mother, father, brother, and various strangers for the slaying, insists it has now "cracked the cold case after 21 years," under the headline: "This Evil Monster Murdered JonBenet."
The killer? A now-dead neighbor who was thoroughly scrutinized by police during their investigation, and dismissed as a suspect. Why is Glenn Meyer now fingered as the murderer? Because his ex-wife, Charlotte Hey, claims: "When I asked him if he murdered her, he would just smile at me. He wouldn't deny it." Sounds like a confession to me.
"Queen Survives Assassin's Bullet!" screams the Globe cover, failing to mention that the incident – alleged by a former New Zealand police officer – occurred 36 years ago, in 1981. British police are reportedly stepping up security, which seems appropriate 36 years after the event.
Equally ancient is the National Examiner cover story claiming to finally solve the Natalie Wood "murder." The actress drowned in 1981, and the tabloids have spent decades trying – and failing – to pin the blame on her husband, actor Robert Wagner. The Examiner claims that "new testimony could put Wagner away!" But we've seen this supposedly new evidence before. Marilyn Wayne, who allegedly heard a woman's voice shouting: "Help me, I'm drowning!" on the night of Wood's death, is not a "secret witness" as the Examiner claims. Her claims were widely reported in 2011, and the Examiner adds nothing new. Trees died for this?
Then there are the stories we've seen before: Prince Charles has filed for divorce from wife Camilla, reports the Globe (another story supposedly missed by the entire British Royal press pack); Will Smith has split from wife Jada Pinkett-Smith claims the Enquirer (a story they repeat almost every six months presumably in the belief that one day they'll be right), while the Globe yet again reports on "Michael Douglas' marriage crisis," claiming that wife Catherine Zeta-Jones is planning to divorce because Douglas has been hit with sex harassment allegations dating back three decades, long before she ever met him. Right.
Meghan Markle's coming May wedding to Prince Harry captures the covers of both Us and People magazines, with equally unenlightening results. Us rehashes old interview clippings to intuit Markle's fitness and diet regime, while People employs old quotes and unnamed insiders for its feature on the growing friendship between Markle and Kate Middleton. Says one source: "I can imagine Kate will find a great friend in her." And isn't imagining the future what good journalism is all about?
Fortunately we have the crack investigative team at Us to tell us that Carmen Electra wore it best (doesn't she always?), that snowboarder Shaun White sits "way too close to the TV," that actress Anna Farris carries Kind bars, a crystal, and dry shampoo (because "I'm lazy, and I don't always shower") in her Fjallraven Kanken backpack, and that the stars are just like us: they walk their dogs, tote luggage, and drink coffee. Revelatory, as ever.
What do Mick Jagger, Olivia Newton-John, Jackie Gleason, David Bowie, John F Kennedy, Russell Crowe and Shirley MacLaine have in common? They have all "claimed close encounters" with aliens or UFOs, according to the Examiner. Kennedy allegedly wrote to the CIA chief demanding to see confidential files about UFOs just days before his assassination. Coincidence...?
Onwards and downwards . . .