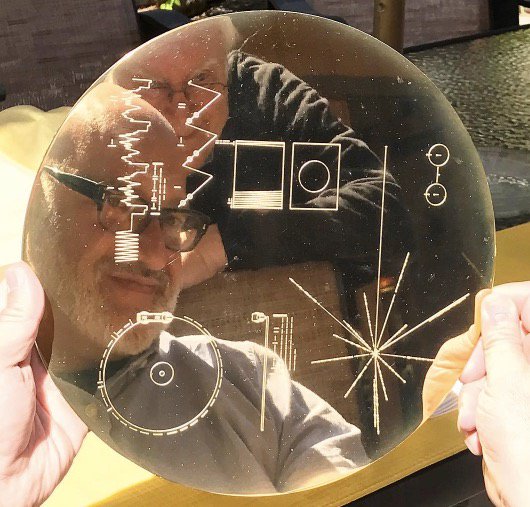 A reminder that this Thursday (3/22), Institute for the Future, the nonprofit thinktank where I'm a researcher, is hosting an event celebrating the Voyager Golden Record at our Palo Alto, California offices/gallery! Joining me in conversation will be legendary astronomer Frank Drake, the father of the scientific search for extraterrestrial intelligence and technical director of the original Voyager Record in 1977. Tickets are $10 and RSVP is required: "The Voyager Golden Record: Celebrating a Journey Through Space and Time" I hope to see you there!
Image above: Frank and I scrying with the Voyager Record cover.
Here's the full announcement...
IFTF's The Future Presents...
"The Voyager Golden Record: Celebrating a Journey Through Space and Time"
Thursday, March 22, 2018, 5:30 to 7:30pm
201 Hamilton Ave. Palo Alto, CA
RSVP is required.

Please join Institute for the Future for a reception celebrating the Voyager Golden Record, the iconic message for extraterrestrials, launched into space by NASA in 1977 and released on vinyl for the first time in the 2017 Grammy-winning boxed set, "Voyager Golden Record: 40th Anniversary Edition," created by IFTF researcher David Pescovitz, Timothy Daly, and Lawrence Azerrad. At this special event, Pescovitz, also a co-editor of Boing Boing, will be host a conversation with legendary astronomer Frank Drake, the father of the Search for Extraterrestrial Intelligence (SETI) and technical director of the original Voyager Record.

Forty years ago, NASA launched two Voyager spacecraft on a grand tour of the solar system and into the mysteries of interstellar space. Attached to each of these probes is a golden phonograph record containing Earth's greatest music from myriad peoples and eras, natural sounds, spoken greetings in dozens of human languages, and more than 100 encoded images that depict who, and what, we are.

The Golden Record is a time capsule but it is also timeless, perhaps destined to be the last vestige of our civilization after we are gone forever. It sparks the imagination and connects us to our own humanity. It embodies a sense of hope, reminding us that our future really is up to all of us.

The Voyager Golden Record 3xLP Vinyl Box Set and 2xCD-Book edition will be available for purchase at the event with profits benefiting IFTF. Also available online at: www.ozmarecords.com