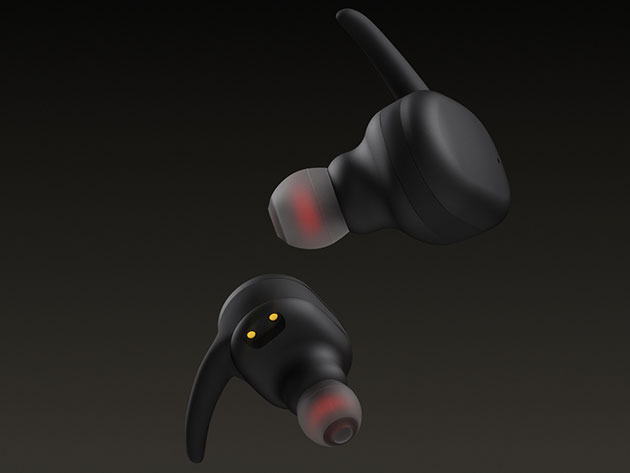 In case you hadn't noticed from the sleigh bell-heavy music and the hues on your Starbucks cup, the holiday season hasn't shown any more patience this year. But that doesn't need to be a bad thing, especially if you're hoping to get a jump on your shopping. Retailers aren't waiting til Black Friday to dish out the deals, and neither should you. Here are's six of the more notable bargains on the radar, from booze paraphernalia to tech-minded winter wear:
So you're walking in frostbite weather and an urgent text pops up. It's an all-too-common annoyance with an easy solution: These fashionable knit gloves, equipped with a conductive fingertip surface that lets you swipe and send with comfort in any climate. They're currently 42% off the MSRP at $10.99.
TREBLAB X11 Bluetooth In-Ear Headphones
With passive noise-cancellation tech and HD sound, these next-gen buds will be going straight from the stocking into your music-loving friend's ear. (And with the stabilizing ear fins, they'll stay there.) Equipped with Bluetooth 4.1 CSR and a built-in mic, they're equally well suited for taking calls on the go, at the gym - anywhere you need hands-free audio. Best of all, they're $29.99 - a significant drop from the already sale-priced $54.99.
Eravino Whiskey Globe Decanter
Here's one for the worldly tippler on your list. Mounted on a hardwood display, this decanter holds 30 ounces of whiskey or other spirits inside an etched globe map, complete with a blown glass ship-in-a-bottle. Great for Christmas, but just as well suited as a gift for newlyweds. Honeymoon decisions get a lot more fun when you use this globe to pick a spot. And right now, it's more than 50% off at $24.99.
UltraBright 500-Lumen Tactical Military Flashlight: 2-Pack
Light up somebody's life in a big way with this two-pack of torches that are as durable as they are bright. Keep one in the car for emergencies, the other in the hiking pack. The adjustable zoom and extra-long battery life makes them ideal either way. Normally $100, this two-pack of the UltraBright 500-Lumen Tactical Military Flashlight with carrying case is sale priced at $14.99.
Cresuer Touchwave True Wireless Bluetooth Earbuds
Another solid deal on Bluetooth earbuds, the distinguishing feature on this Cresuer model is the touch-sensitive, minimal controls. Answer calls or shuffle songs with a slight tap that won't loosen the buds or damage your ears, then get back to your workout. You can listen for up to 3 hours on a charge, or 12 hours if connected to the included charging case. Right now, you can pick up a pair for $34.99, significantly less than the original $99.99.
iPM World 360-Degree 1080p Wireless IP Camera
Finally, a gift for that anecdotal "man who has everything": A personal security cam to keep an eye on all that stuff. With a panoramic view that's adjustable and viewable from your cell phone - even in infrared night vision - the iPM can keep a constant eye on any room. And with video encryption, you can sure the view will stay private. Already sale priced at $49.99, it's been bumped down for the holidays to $41.99.