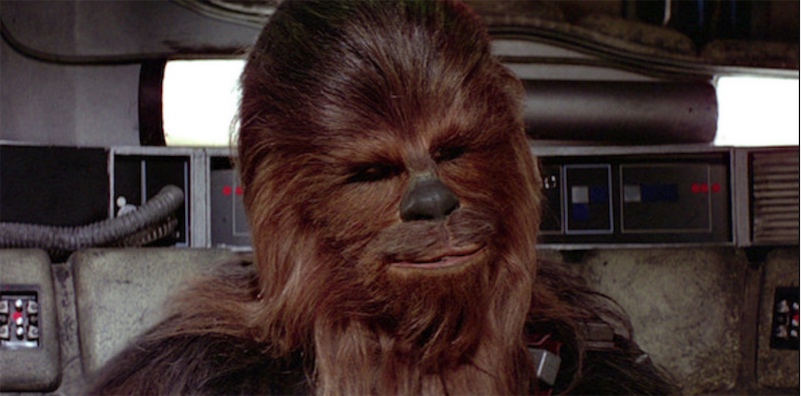 Peter Mayhew, the actor who played Chewbacca in the Star Wars films, died on April 30.
He was 74 years old. Several years ago, my son, then 10, and I had the good fortune to meet and briefly chat with Mayhew; he was kind, warm, personable, and unhurried with every single kid (and adult) who approached him.
According to a statement from Mayhew's family, "there will be a memorial in December (in Los Angeles) for fans set up with his family in attendance, personal effects, and collection at EmpireConLA."
The family asks that fans consider donating to the Peter Mayhew Foundation, "devoted to the alleviation of disease, pain, suffering, and the financial toll brought on by life's traumatic events."
Rest easy, Chewie.
The family of Peter Mayhew, with deep love and sadness, regrets to share the news that Peter has passed away. He left us the evening of April 30, 2019 with his family by his side in his North Texas home. pic.twitter.com/YZ5VLyuK0u

— Peter Mayhew (@TheWookieeRoars) May 2, 2019
He was the gentlest of giants-A big man with an even bigger heart who never failed to make me smile & a loyal friend who I loved dearly-I'm grateful for the memories we shared & I'm a better man for just having known him. Thanks Pete #RIPPeterMayhew #Heartbroken @TheWookieeRoars pic.twitter.com/8xbq9HEWF2

— Mark Hamill (@HamillHimself) May 2, 2019
"We are deeply saddened today by the news of Peter Mayhew's passing. Since 1976, Peter's iconic portrayal of the loyal, lovable Chewbacca has been absolutely integral to the character's success, and to the Star Wars saga itself."-Kathleen Kennedy.

More: https://t.co/iGfk9XRzKa pic.twitter.com/5edrPrEuRS

— Star Wars (@starwars) May 3, 2019
Harrison Ford statement on the passing of Peter Mayhew. pic.twitter.com/heDmZR61VZ

— Clayton Sandell (@Clayton_Sandell) May 3, 2019