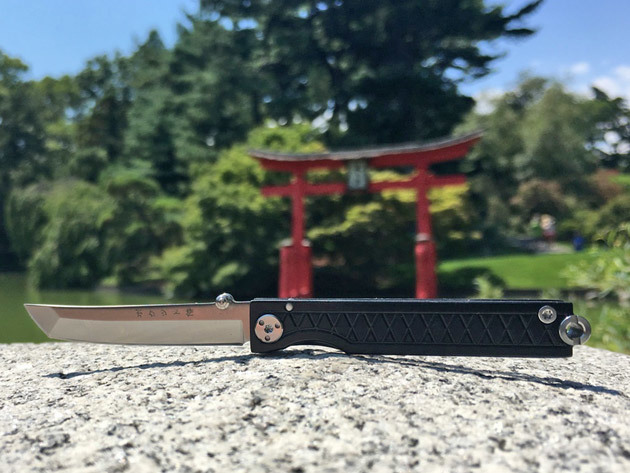 Ask any camper from the greenest Boy Scout to Bear Grylls: If there's one thing you need on any survival kit, it's a trusty knife. Here are six of our current favorites, all of them sale-priced, durable enough for any situation and small enough to carry anywhere.
BLITZ Mini Tactical Pocket Knife
This stubby, folding tanto blade is as small as it is easy to grip, two factors that make it ideal for forceful work. That includes wood carving, seat belt cutting or any number of situations where you need that little bit of extra strength. The BLITZ Mini Tactical Pocket Knife is made of 440 carbon stainless steel, and it's currently priced at $35, more than 40% off the original price.
Pocket Samurai Titanium Keychain Knife
The tapered point on this 440C stainless steel knife is an homage to the katanas of ancient Japan, but the Pocket Samurai is anything but a novelty. The titanium handle is just as durable as the blade, and it's tiny enough to be used as a money clip or keychain accessory. Right now, it's 25% off the retail price at $29.99.
Lightweight and corrosion-resistant, the Dapper 150 is equally at home whittling wood or slicing off cigar tips. The 420 stainless steel blade is secure in the slip joint handle, yet pops out easily for quick access. Pick up the Dapper 150 Ultra Slim Knife for $18, 27% off the MSRP.
This true outdoorsman's knife comes with a dual-edge suitable for sawing or slicing. The 440 stainless steel blade holds up under almost any conditions, and bonus for lefties: The ambidextrous indentations on the handle make it easy to grip with either hand. Originally priced at $29.99, you can now get the Wolftac Folding Knife for 66% off at $9.99.
B-2 BLITZ Tactical Pocket Knife
This compact knife is just as much a workhorse as the B-2 Stealth Bomber that inspired it. The dual-edge blade is up to the task no matter what needs severing, and it opens with the flick of a thumb thanks to the quick-assist mechanism. Right now, it's on sale for more than half off the list price at $35.
This 440 stainless steel knife means business, with a rubber grip that keeps it steady even in wet weather. And the sheath is almost as handy, incorporating a fire starter on the side and sharpener on the rear. This camper's lifesaver is now $32.99, down more than 25% from the retail price.