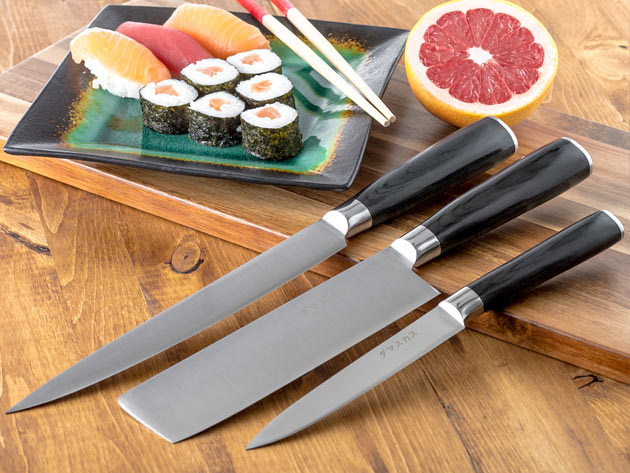 "Craft" is a buzzword that gets thrown around a lot these days, but what does it actually mean? Sadly, it's all too easy to fake craftsmanship when looks are all you have to go by.
On the other hand, you know from the first cut whether you're handling a good chef's knife or not. And this Damasukasu Japanese 3-Piece Master Chef Hanshu Knife Set is sharp in more ways than one.
There's a subtle alternating pattern to the carbon-rich steel that makes these knives worthy of display, but they are definitely made to be used. The steel is nitrogen-cooled to a Rockwell hardness rating of over 62, and the 12-degree edge means smooth cuts every time on a variety of meats and veggies.
Each knife is full tang and balanced to exacting standards. And, they're corrosion and rust-resistant to ensure that they'll be your go-to knife set for many meals.
The price has dropped on the three-piece set by more than $100 off the previous sale price, but you can take an additional 15% off that final cost by using the online code BFSAVE15.
Don't wait for Black Friday—you can get these top-sellers at deep discounts today!