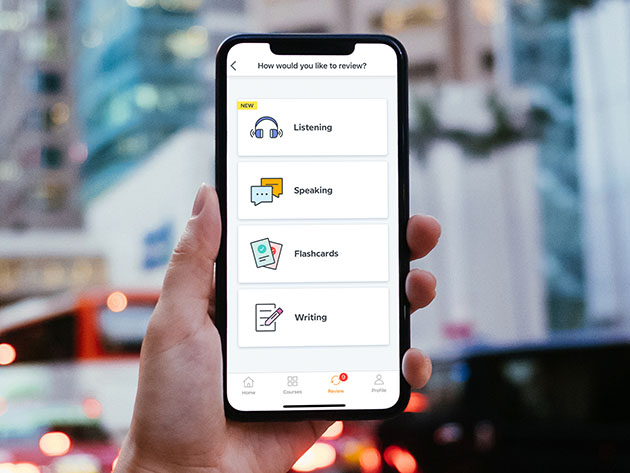 As one year draws to a close and a new year is about to begin, it's common to assess what you've accomplished and start to set new goals. And whether you have the resolution to travel more, gain international work opportunities or strike up a conversation with your grandparents in their native tongue, there are many benefits to picking up a new language. Most people hit a point in learning a new language where progress comes to a screeching halt because it's difficult to maintain the consistency of practice — but Babbel was developed by expert linguists with a focus on making learning a new language both intuitive and accessible.
Babbel is the top-grossing language learning app in the world because it not only gives users 24/7 access to learn, develop and practice speaking and reading skills at any time, but it also breaks the lessons down into digestible chunks. You can practice in 10-15 minute-long increments that can fit into the busiest schedule and keep your pronunciation on point with speech recognition technology.
Go from a beginner to an advanced understanding of your pick of 14 languages ranging from Spanish and French, to Italian and German — and take your time learning, since this subscription gives you lifetime access to try your hand at all of them if you want to. The lessons cover a wide range of useful real-life topics that you can use to chat up locals, from travel to family, business to food and more.
Reinforce your learning with personalized review sessions and the freedom to study wherever and whenever you want: Babbel synchronizes your progress across your devices and even lets you access courses offline. All you need to do is download your lessons and review items beforehand, and you can learn when you're not connected to WiFi (like when you're on a plane or the subway).
Usually, a Babbel subscription is $399, but it's on sale now for $159. For a limited time, you can save an extra 40% off with coupon code BFSAVE40.
Don't wait for Black Friday — you can get these top-sellers at deep discounts today!