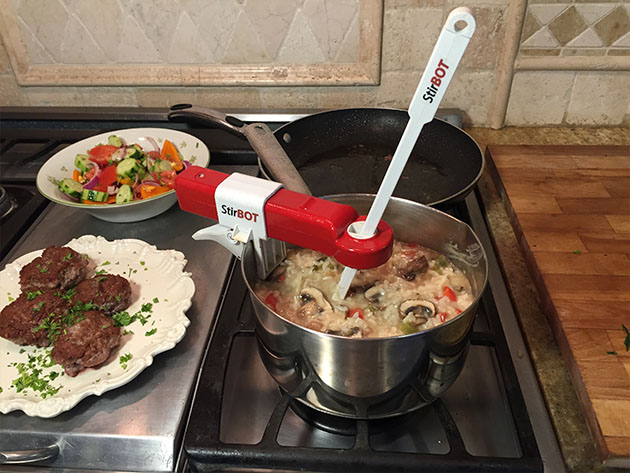 You know those cooking shows where you see chefs furiously stirring their broth or risotto? That's the only time stirring has ever looked cool.
For the rest of us, it's an unbearable time-sink and a quick way to get sore arms -  especially if you're preparing thick foods like mashed potatoes. For that reason, we heartily recommend you let technology take over in the form of the StirMATE® Smart Pot Stirrer.
This device is far more than just a spoon attached to a rotor. There are actually two paddles attached to a high-torque rotator that clamps onto the side of the pot. The upper paddle does the heavy work of actually mixing up your food in the middle layers while the lower paddle rests at the bottom, gently wiping the pot surface clean and making sure there's no nasty caked-on residue to deal with.
It's adjustable to pots and pans of various diameters, up to 9 inches deep. The StirMATE is now on sale for 16% off retail, and you can take an additional 15% off that final price by entering the coupon code HAPPYHOLIDAYS.