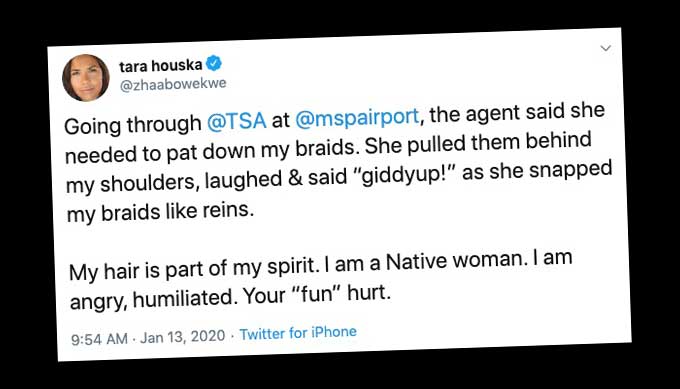 Tara Houska, an attorney and Indigenous rights activist, was going through TSA security at Minneapolis−Saint Paul International Airport when a Transportation Security Administration (TSA) told Houska she would need to have her braids patted down as a security precaution, reports Fox News.
"She pulled them behind my shoulders, laughed [and] said 'giddy up!' as she snapped my braids like reins," Houska said on Twitter. "My hair is part of my spirit. I am a Native woman. I am angry, humiliated. Your 'fun' hurt."
When Houska informed the agent that her actions were dehumanizing and disrespectful, the agent explained that she was having "fun."
Federal Security Director Cliff Van Leuven sais Houska's description of the incident was accurate. From Fox News:
"Did it actually happen? Yes. Exactly as described? Yes," Federal Security Director Cliff Van Leuven said, per KARE 11. "I apologized for how she was treated during the screening of her braids — and we had a very pleasant conversation.

"She reiterated that she doesn't want the Officer to get in trouble, but she is hoping we'll take the chance to continue to educate our staff about the many Native American Tribes/Bands in our state and region to better understand their culture," Van Leuven added.

The TSA has launched an investigation, which is ongoing, into the incident, KARE 11 reports.