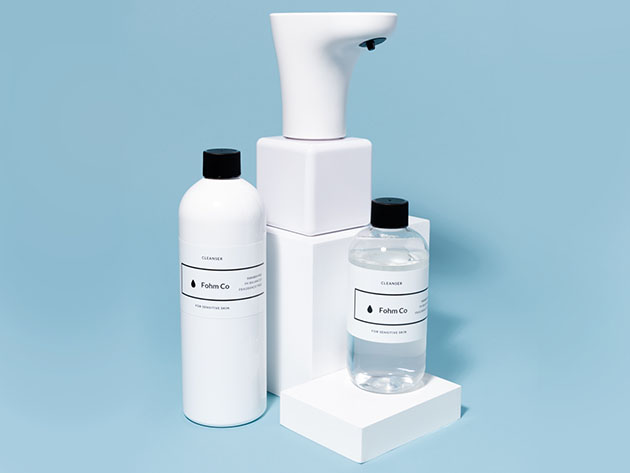 You may not realize it, but even before COVID-19, America had a toilet paper problem. The problem was that people really didn't like it all that much. It's often course, it chafes, and rather than deal with that unpleasantness, many shoppers just shifted to flushable wet wipes instead. 
Which, unfortunately, created another problem — because it seems those flushable wipes aren't always quite as flushable as advertised. And if your flushable wipes don't break up in your pipes the way you'd hoped, you could be looking at a blockage that'll cost you up to $3,000 or more to fix.
So with all that in mind, you might want to consider a compromise like the Fohm Toilet Paper Foam and Dispenser Set. This inventive system effectively turns ordinary toilet paper into a wet wipe. 
A blast from the hands-free dispenser issues a cleansing fluid that is made from the same components that wet wipes use, a pH balanced, paraben, alcohol and fragrance-free solution that's gentle for even the most sensitive skin.
The foam isn't messy, and one set provides three months' worth of solution. Rather than dealing with the less reliable wet wipes, you can get the same refreshed cleansing with the Fohm alternative in a much more eco-friendly and even cost-effective way.
The dispenser and solution are already a hit, prominently included in features in publications like Family Circle, Bloomberg, BuzzFeed, New York Magazine, and more. And with cleanliness from the bathroom and beyond a top-of-mind consideration these days, the function and comfort of a Fohm-based experience shouldn't be overlooked.
Instead of dropping hundreds on a plumber, you can sample the Fohm Toilet Paper Foam and Dispenser Set now for a whole lot less, just $59.99 for the dispenser and a three-month supply of solution. That's a $20 savings off the regular price.
Meanwhile, you can also increase your savings by dropping an extra $8 and bumping up to a six-month solution supply for only $67.99 (32 percent off). Or if you'd like to outfit a pair of bathrooms, you can get the biggest discount by going with the foam and dispenser 2-pack for only $106.99.