Stormtroopers v. London cops
Read more at Boing Boing
Read more at Boing Boing
Read more at Boing Boing
---
This photo released yesterday depicts members of a tribe in the Amazon rain forest firing arrows at an airplane. Apparently, the tribe has never had any contact with humans outside of their own group.
---
Earlier this week, I posted that Earle Hagen, TV theme composer behind the Andy Grffith Show (aka The Fishin' Hole), Mod Squad, and other classics, passed away.
---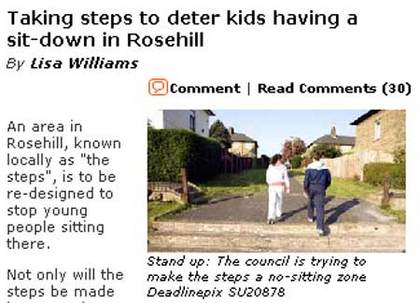 Over on the always-excellent Architectures of Control in Design blog, Dan Lockton takes special note of an ugly little bit of anti-kid-ism brewing in Sutton, Surrey: the local council, in the name of "cater[ing] for all sections of the local community," is planning to revise a set of steps where kids gather to, you know, sit and talk to each other and hang out in public.