Kindle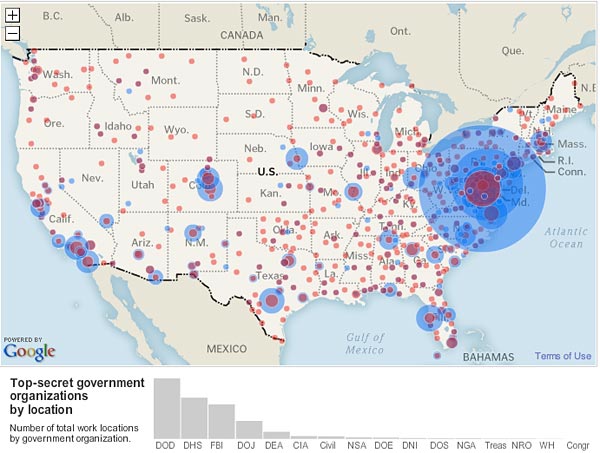 The Washington Post today unveiled a two-year investigative journalism project, "Top Secret America."
To ensure that the country's most sensitive duties are carried out only by people loyal above all to the nation's interest, federal rules say contractors may not perform what are called "inherently government functions." But they do, all the time and in every intelligence and counterterrorism agency, according to a two-year investigation by The Washington Post.

What started as a temporary fix in response to the terrorist attacks has turned into a dependency that calls into question whether the federal workforce includes too many people obligated to shareholders rather than the public interest -- and whether the government is still in control of its most sensitive activities. In interviews last week, both Defense Secretary Robert M. Gates and CIA Director Leon Panetta said they agreed with such concerns.

The Post investigation uncovered what amounts to an alternative geography of the United States, a Top Secret America created since 9/11 that is hidden from public view, lacking in thorough oversight and so unwieldy that its effectiveness is impossible to determine.
Top Secret America
project home.
Story archive here
, and
interactive map here
. More about the project
here
.
Boing Boing editor/partner and tech culture journalist Xeni Jardin hosts and produces Boing Boing's in-flight TV channel on Virgin America airlines (#10 on the dial), and writes about living with breast cancer. Diagnosed in 2011. @xeni on Twitter. email: xeni@boingboing.net.
More at Boing Boing