Kindle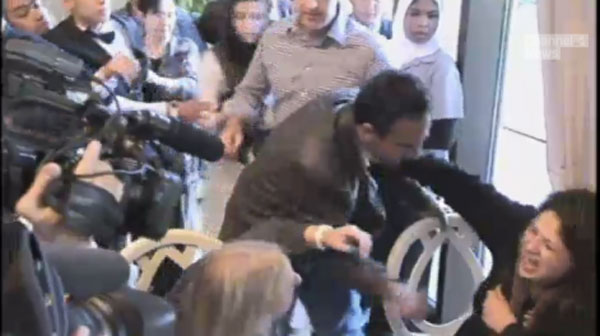 "A Libyan woman burst into the hotel housing the foreign press in Tripoli Saturday morning and fought off security forces as she told journalists that she had been raped and beaten by members of the Qaddafi militia. After nearly an hour, she was dragged away from the hotel screaming." (New York Times)
Her name is Eman al-Obeidy. CNN's Nic Robertson was present, and his tweeted account is screengrabbed here. "CNN camera was violently snatched, systematically smashed to pieces and video footage stolen," he wrote. "Some journalists were beaten in blatant display of regime thuggery."
"Journalists are demanding to see her. David Kirkpatrick of the New York Times and I went to officials in charge who claimed they don't know who took her, or where she was taken."
A related Reuters item is here. Above: A related Sky News clip. The UK Telegraph also has video coverage. (via @acarvin).
Boing Boing editor/partner and tech culture journalist Xeni Jardin hosts and produces Boing Boing's in-flight TV channel on Virgin America airlines (#10 on the dial), and writes about living with breast cancer. Diagnosed in 2011. @xeni on Twitter. email: xeni@boingboing.net.
More at Boing Boing