Kindle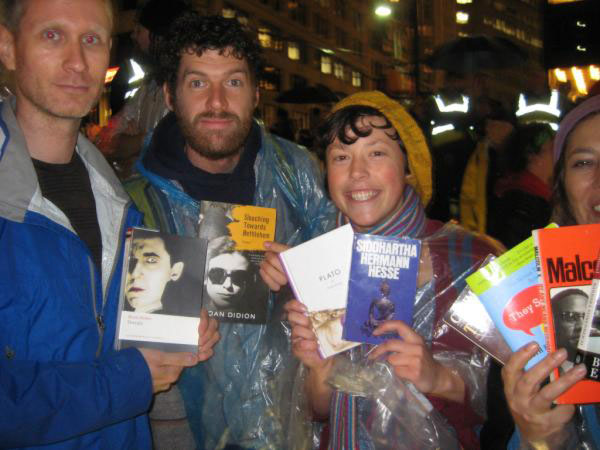 "NYPD & Brookfield have taken the People's Library again. and we love you all," tweet the Occupy Wall Street librarians of Zuccotti Park.
They also raided all the energy bars, waters, and snacks from the re-created library, and threw them away, too. This is not the first time.
Then, shortly after: "A few of our awesome librarians holding up new donations just after NYPD and Brookfield workers took our books tonight."
The librarians are restocking, in case you'd like to donate.
And for those new to the story, Brookfield is the owner of Zuccotti Park, a central site in the two-month-old global Occupy movement. Participants in the OWS protest at Zuccotti set up a book-sharing site, a library of sorts, and both the structure and the 5,000 books it contained were destroyed by the police earlier this week.
"Books are apparently the crosses and garlic of the evil vampire squid," tweets "bookmaker" Kate Black.
"Porn star Sasha Grey reads to children while the NYPD throws books in the trash," says comedian Rob Delaney. "Inhale that, America."
Boing Boing editor/partner and tech culture journalist Xeni Jardin hosts and produces Boing Boing's in-flight TV channel on Virgin America airlines (#10 on the dial), and writes about living with breast cancer. Diagnosed in 2011. @xeni on Twitter. email: xeni@boingboing.net.
More at Boing Boing