Kindle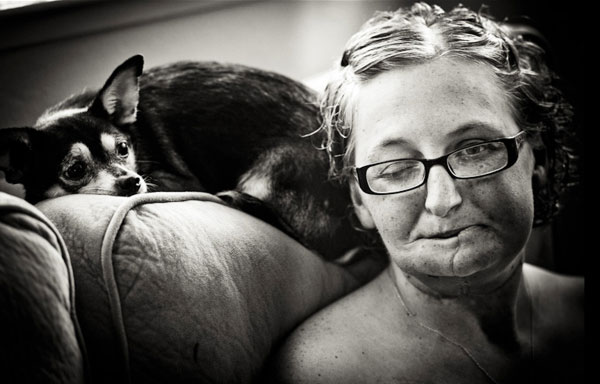 Photographer David Jay's SCAR Project is described as "a series of large-scale portraits of young breast cancer survivors," intended to raise awareness about early onset breast cancer while "paying tribute to the courage and spirit of so many brave young women."
Dedicated to the more than 10,000 women under the age of 40 who will be diagnosed this year alone, The SCAR Project is an exercise in awareness, hope, reflection and healing. The mission is three-fold: raise public consciousness of early-onset breast cancer, raise funds for breast cancer research/outreach programs and help young survivors see their scars, faces, figures and experiences through a new, honest and ultimately empowering lens.
You can view more images here (websurfing-while-at-work content advisory: most contain female frontal nudity, and, of course, surgical scars).
There's a book, available here. And there's an interview with Jay about the SCAR project at FOTOJORNO.
As regular readers may know, this project is relevant to my interests.
(via @josephsyen)
Boing Boing editor/partner and tech culture journalist Xeni Jardin hosts and produces Boing Boing's in-flight TV channel on Virgin America airlines (#10 on the dial), and writes about living with breast cancer. Diagnosed in 2011. @xeni on Twitter. email: xeni@boingboing.net.
More at Boing Boing