Kindle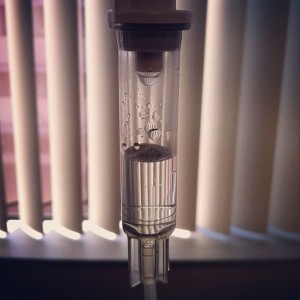 Photo, by Miles O'Brien: my chemo drip from last week.
Using Storify (hey, for the first time!) I rounded up a Twitter conversation with followers about the financial devastation that can follow a cancer diagnosis in the US. Treatment here is expensive. Even the relatively fortunate who have jobs and health insurance can be crushed by medical debt. Many weighed in with personal stories of losing their homes, or having to choose between treatment or food.
Read here: "On Cost and Cancer in America."
Related reading at Boing Boing: "When life hands you cancer, make cancer-ade."
Filmmaker Michael Moore (Sicko) links to and adds to the conversation here.
---
Boing Boing editor/partner and tech culture journalist Xeni Jardin hosts and produces Boing Boing's in-flight TV channel on Virgin America airlines (#10 on the dial), and writes about living with breast cancer. Diagnosed in 2011. @xeni on Twitter. email: xeni@boingboing.net.
More at Boing Boing