Funny "Lost Wormhole" sign
Read more at Boing Boing
Read more at Boing Boing
Read more at Boing Boing
---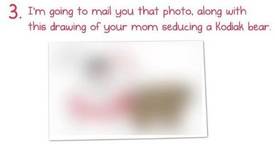 The Internet's head exploded yesterday at the news that FunnyJunk had sent a $20,000 legal demand letter to The Oatmeal, asserting that the Oatmeal's complaint about FunnyJunk's users reposting Oatmeal content was, itself, an offense warranting a $20,000 settlement.
---

Yardley Joy Frantz of Allentown, PA was released on $20,000 bail after being arrested for using a stun gun on a man who had been aiding another man she'd allegedly hit with her car.
---
It seems that Burger King must have taken a very long position on pork futures, because they've rolled out a temporary Memphis Pulled Pork BBQ Sandwich, Carolina BBQ Whopper, Texas BBQ Whopper and a bacon sundae:
The AP reports that BK will launch the treat — which has fudge, caramel, crumbled bacon and a full piece of bacon — later this week, along with other limited time items.