Kindle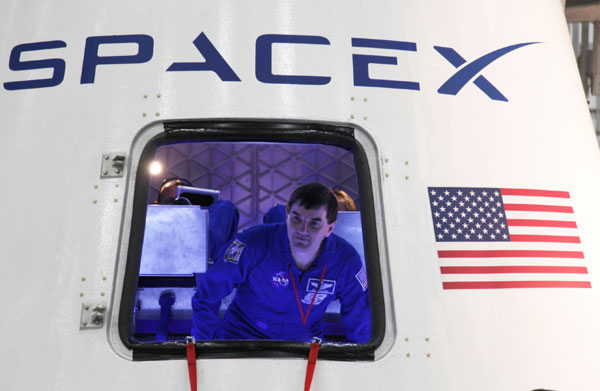 NASA has awarded Boeing (not to be confused with "Boing Boing," you guys), SpaceX, and a Colorado-based systems integration firm more than a billion in contracts to develop spacecraft capable of carrying astronauts. The Chicago-based aerospace giant Boeing gets $460 million. Elon Musk's space transportation startup SpaceX, based in Hawthorne, CA, gets $440 million. And Sierra Nevada Corp. in Colorado gets $212.5 milion. NASA's press release is here.
Above: NASA Astronaut Rex Walheim stands inside the Dragon Crew Engineering Model at SpaceX headquarters, during a day-long review of the Dragon crew vehicle layout. (Photo: SpaceX)
Boing Boing editor/partner and tech culture journalist Xeni Jardin hosts and produces Boing Boing's in-flight TV channel on Virgin America airlines (#10 on the dial), and writes about living with breast cancer. Diagnosed in 2011. @xeni on Twitter. email: xeni@boingboing.net.
More at Boing Boing