Kindle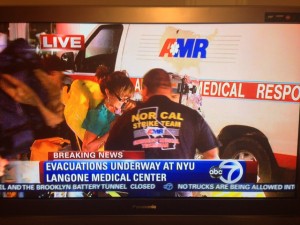 Rob Delaney, writing about those babies rescued by first responders from a hospital in New York City that lost power during Superstorm Sandy:
As I looked at these pictures of the babies being evacuated, I had a depressing thought. What are the financial situations of these babies' parents? Are they poor? Do they have insurance? Are they on Medicaid? Medicaid is a health program that pays for medical services for those who cannot afford them. It is jointly funded by the federal and state governments. In some ways, I'd be happy if you were learning this information for the first time right now; the reason being that you don't have to rely on Medicaid. Regardless, I suspect that if you had some "Medicaid" in your pocket last night, you'd have gladly given it to these precious babies to ensure their health and safety. It's a good thing. If one of those babies were poor, I don't suspect you'd want to punish her because her dad got laid off from his manufacturing job or because leukemia killed her older brother and bankrupted her parents just in time for her birth. If you don't like these examples, tough shit; they're how people get poor in the United States of America in 2012. I don't want you to like them. 
Read the rest: "After Sandy" (robdelaney.tumblr.com)
Boing Boing editor/partner and tech culture journalist Xeni Jardin hosts and produces Boing Boing's in-flight TV channel on Virgin America airlines (#10 on the dial), and writes about living with breast cancer. Diagnosed in 2011. @xeni on Twitter. email: xeni@boingboing.net.
More at Boing Boing