Kindle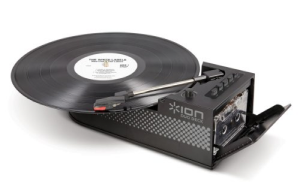 I can't vouch for the sound quality of the Ion IT34 Duo Deck USB turntable/cassette deck but I sure dig the design. It runs on four AA batteries, fits in a backpack, and plays 78s -- perfect for a real old timey picnic. Would also be fun to build it into your auto's dash, like this fine car audio system of yesteryear! $50 from Amazon. "Ion IT34 Duo Deck Ultra-Portable USB Turntable with Cassette Deck"
Read more in Music at Boing Boing
David Pescovitz is Boing Boing's co-editor/managing partner. He's also a research director at Institute for the Future. On Instagram, he's @pesco.
More at Boing Boing