Kindle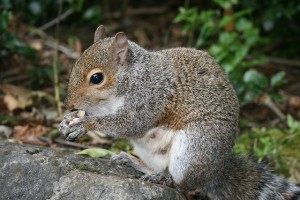 If you enjoy the irony in the fact that the great East Coast blackout of 2003 was largely caused by a few untrimmed trees, then you're going to love Jon Mooallem's account of how America's squirrels are wreaking havoc on America's electricity system.
Using a Google news alert, he's cataloged 50 squirrel-caused power outages in 24 states — and that's just since Memorial Day. These aren't small outages either. Several of them have cut power to thousands of people at a time. Back in 1994, a squirrel took out the Nasdaq. These are kamikaze raids and they've led to an interesting phenomenon — technology developed specifically to protect our infrastructure from furry, tree-hopping rodents.
Pictured: The face of pure evil, a Creative Commons Attribution (2.0) image from binaryape's photostream
Maggie Koerth-Baker is the science editor at BoingBoing.net. She writes a monthly column for The New York Times Magazine and is the author of Before the Lights Go Out
, a book about electricity, infrastructure, and the future of energy. You can find Maggie on Twitter and Facebook.
Maggie goes places and talks to people. Find out where she'll be speaking next.
More at Boing Boing