Kindle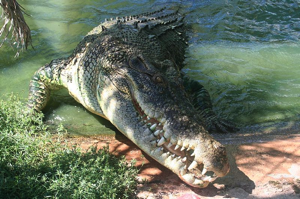 Last month, an adventuresome tourist was dropped by boat on the small, remote Governor Island off Western Australia. He planned to explore the island but quickly realized he didn't have enough food and water to sustain himself. So he decided to kayak the four kilometers back to the mainland. The problem was that every time he'd get ready to head out, a six-meter crocodile would stalk him. The man reportedly was stuck on the island for two weeks until a local noticed his light and rescued him.
"He said every time he got in his little kayak, which was only 2.5m long, this crocodile – who has lived there for many years and is a monster – has chased him," (rescuer Don) McLeod said.
"He was desperate for water when I trotted up. We gave him a cold beer, which was probably the wrong thing, and then he went to sleep about three-quarters of the way home." "Crocodile stalked New Zealand kayaker on remote island in Western Australia"
image from Wikimedia Commons
David Pescovitz is Boing Boing's co-editor/managing partner. He's also a research director at Institute for the Future. On Instagram, he's @pesco.
More at Boing Boing