Kindle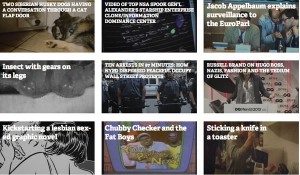 Some of the most recent video selections you can find on our video archive page:
• Video of US spy chief's Star Trek command center replica
• Jacob Appelbaum explains surveillance to the EuroParl
• A bug with gears on its legs
• 10 NYPD OWS arrests in less than 90 minutes
• Chubby Checker and the Fat Boys
• Sticking a knife in a toaster
• A cappella bass singer goes deep... very deep
• A young adult romance told entirely on computer screens
• Swedish contemporary punk from Holograms
Boing Boing editor/partner and tech culture journalist Xeni Jardin hosts and produces Boing Boing's in-flight TV channel on Virgin America airlines (#10 on the dial), and writes about living with breast cancer. Diagnosed in 2011. @xeni on Twitter. email: xeni@boingboing.net.
More at Boing Boing