Kindle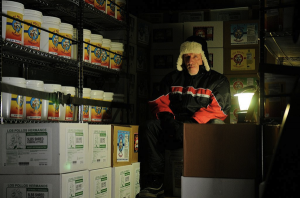 Yelp, Albuquerque, NM: Los Pollos Hermanos.
The chicken is nice and tender with a great blend of spices. The fries are maybe not the greatest though, so minus one star. However, if you are looking for some excellent fried chicken, you can do a lot worse than this place! My only complaint is that there are sometimes people who just seem to be sitting in the restaurant, not really eating or anything. I mean, it's fried chicken so if you see someone just sitting, not eating, it's kind of weird. I mean, sometimes I'll see people there before I get in and they'll still be sitting there after I leave. Kind of weird but they don't seem to be bothering anyone.
[HT:
Maggie Koerth-Baker
]
Boing Boing editor/partner and tech culture journalist Xeni Jardin hosts and produces Boing Boing's in-flight TV channel on Virgin America airlines (#10 on the dial), and writes about living with breast cancer. Diagnosed in 2011. @xeni on Twitter. email: xeni@boingboing.net.
More at Boing Boing