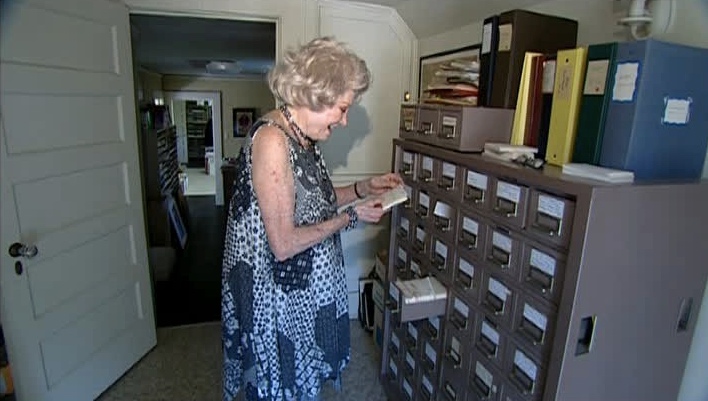 Legendary comedian Phyllis Diller used a "gag file" to organize her jokes. The steel cabinet held more than 50,000 index cards, each with one joke on it. She filed them by subject, in alphabetical order. In 2003, Diller donated the archive to the Smithsonian and they need help transcribing them into a digital database. From the Smithsonian's National Museum of American History:

Digital volunteers will be able to browse through all of the joke cards, transcribe any cards that make them chuckle, and review cards transcribed by other volunteers. Anyone can volunteer to help us transcribe Phyllis Diller's jokes, or any other project across the Smithsonian. Thanks to the efforts of volunteers like you, researchers and fans around the world will soon be able to explore, share, and enjoy the jokes of Phyllis Diller.
From CBC Radio:

"On my honeymoon I put on a peekaboo blouse. My husband peeked and booed."
Diller's style was self-deprecating. She made jokes about her appearance, about a (fictional) sexless marriage, about her miserable cooking (which in real life was actually very good.) She knew she was playing a character and it made her wealthy, but it doesn't mean the jokes she gave to the Smithsonian still work today.


I asked (Smithsonian Transcription Center's) Meghan Ferriter if any of the volunteers are cringing at the subject matter.


"Well, there actually are a number of jokes that really represent the historical context and cultural values and other forms of social relationships at the time. Some of our volunteers have surfaced them, and really have the opportunity to engage with, kind of critically reflecting on why that was acceptable humour at the time, why that made people amused."


Help transcribe the Phyllis Diller Gag File (Smithsonian Digital Volunteers via Neatorama)