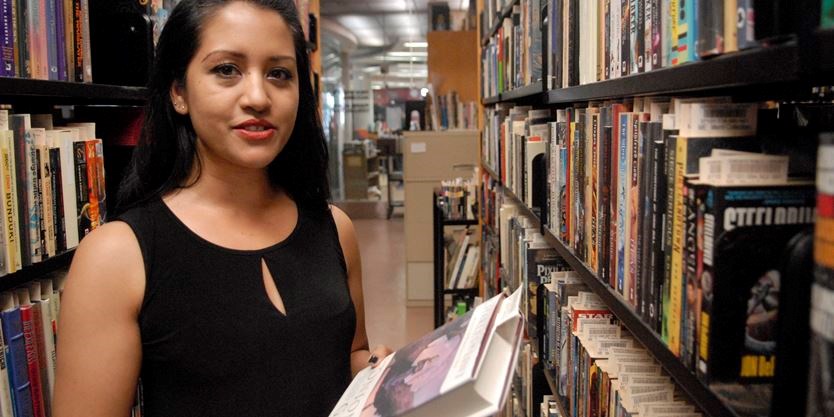 It's been decades since I first discovered my love of science fiction on a school trip to the "Spaced Out Library," the public science fiction reference collection founded by Judith Merril -- that day, I met both Merril (who went on to be a mentor to me) and Lorna Toolis, who has just stepped down as head of the library, which grew in stature and changed names, becoming the Merril Collection of Science Fiction.

Today, the Merril is a treasure, and it's it no small part thanks to Lorna and her team. As Lorna retires, the first new head librarian in more than 30 years is stepping in to manage the collection.


That new head librarian is Sephora Hosein, a "lifelong fan" who has vowed to bring in younger readers and a new generation of fandom by connecting the collection using "social media and programming for people who maybe love science fiction and fantasy, but never dove deep into fandom."
I think Judy Merril would have loved this approach. I was trepidatious when I heard Lorna was stepping down as the library has been such a fixture in my life, but Ms Hosein sounds like a brilliant successor.
Hosein has taken the reins from longtime collection head Lorna Toolis, herself having moved from managing another formidable research collection — Toronto Public Library's Canadiana Collection at the Toronto Reference Library.

"It's an extremely unique kind of collection in general in a public library setting, to be publicly available, to encourage the level of access that we do — that's the one thing," says Hosein. "Then on a grander scale, I'm told that the Merril is a premier collection among the world's premier collections. I think that's fabulous for Toronto, for the academics here and the people who travel here to look at what maybe others don't have. And speculative fiction has become so much more a part of the fabric of popular culture, so much more mainstream, so much more acceptable."

The collection on the third floor of the Lillian H. Smith branch has hardly been hidden away — over the years it's played host to readings from popular science fiction and fantasy writers like Cory Doctorow, Neil Gaiman and Robert J. Sawyer, and it's served as a focal point for Toronto's growing community in the genre.

But Hosein wants to take the promotion of the collection to another level, reaching out through social media and programming for people who maybe love science fiction and fantasy, but never dove deep into fandom.

"I want people to associate us with somewhere to go, somewhere to investigate, somewhere to take their kids," says Hosein. "I don't know that we've opened up to a lot of younger audiences. Maybe our material isn't associated for that age group, but there is some. And the younger people are the ones we want to be our future users."
Toronto's Merril Collection has a new librarian in charge
[David Nickle/Inside Toronto]