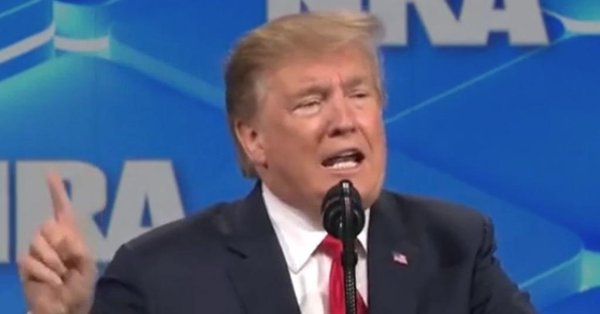 As Donald Trump spoke at today's National Rifle Association convention in Indianapolis, someone threw an object on stage.
Also at the NRA convention today, Trump went on a bananas rant about a failed "coup," and told the audience at the NRA's "leadership forum" he will "never, ever let [them] down."
Oh. And Trump also announced the U.S. is withdrawing from a global arms treaty.
Here's the tossing of the purported phone, or whatever it was.
Now about that arms treaty:
President Donald Trump said that his administration is withdrawing from a global arms treaty that set rules for sales and transfers of small arms, missile launchers and warships.

"My administration will never surrender American sovereignty to anyone. My administration will never ratify the UN Arms Treaty," Trump said Friday at a National Rifle Association conference in Indiana. "We're taking our signature back."
Also, from Trump's remarks today, this quote:
"No matter how many centuries go by, how much the world changes, the central drama of human history remains the same. On one side are those who seek power, control and domination. And on the other side are patriots...."
Trump to the NRA: "No matter how many centuries go by, how much the world changes, the central drama of human history remains the same. On one side are those who seek power, control and domination. And on the other side are patriots...."

— David Freedlander (@freedlander) April 26, 2019
Once again, Trump tells the audience at the NRA's "leadership forum" that he will "never, ever let [them] down."

Join the people-powered gun safety movement that's holding our elected leaders accountable for supporting the NRA's toxic agenda: Text JOIN to 644-33. #NRAAM https://t.co/rmVDSdemfE

— Everytown (@Everytown) April 26, 2019