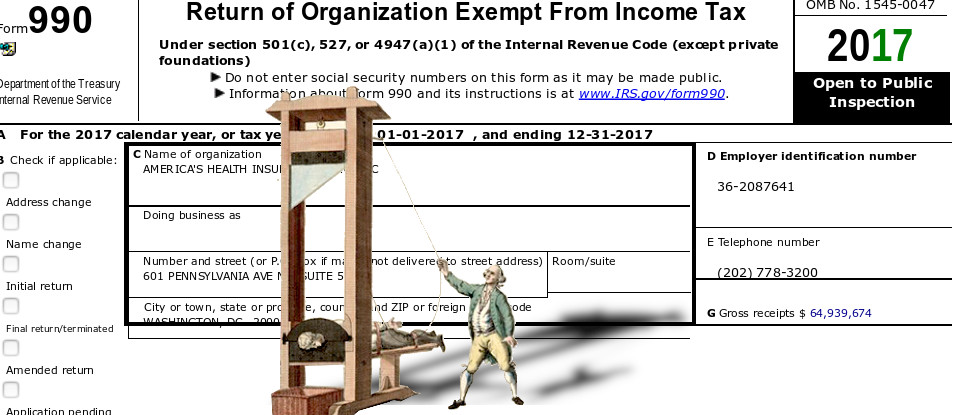 Officially, Americas total 2017 corporate lobbying group spending was $535m, but as much as $675m more was funneled from industry groups to politicians as part of influence campaigns.
Maplight found the off-the-books spending by data-mining the tax returns of more than 100 501(c)(6) nonprofits -- a special tax designation for trade groups, from the US Chamber of Commerce to the Washington State Society of Anesthesiologists.
Nonprofits tax returns are public. By looking for line-items like "'advocacy,' 'consulting,' 'contributions,' 'coalitions,' 'consortiums,' 'government affairs,' 'communications,' 'programs,' 'special projects,' 'dues,' 'memberships,' and 'subscriptions'," Maplight was able to identify influence money that was not counted because it was laundered through other organizations.
For example, the trade group America's Health Insurance Plans (AHIP) funneled $100m to the Chamber of Commerce to fund anti-Obamacare lobbying, but marked up the funds as "advocacy," not "lobbying."
There's lots of incredibly vague, high-ticket stuff buried in these tax-returns, spending on "other fees for services" and "other expenses," while other line-items are a little more explicit, like "coalition expenditures" ($1.5m, Financial Services Roundtable) "policy research and consulting" ($4m, Chamber of Commerce), "consulting" ($82m, Phrma), "strategic planning" ($9.2m, American Fuel and Petrochemical Manufacturers), etc.
Nonprofits are only required to itemize their "other fees for services" if they account for more than 10 percent of their total functional expenses, which offers some trade associations an additional avenue for secrecy. For example, since the American Hospital Association listed more than $126 million in total functional expenses in 2017, it didn't need to spell out any of the items included in its $12 million line for "other fees for services."

Last year, the health care industry launched the Partnership for America's Health Care Future, or PAHCF, a 501(c)(4) dark-money organization, to oppose growing momentum for Medicare for All or more limited reforms. The PAHCF membership page features more than two dozen trade organizations, including AHIP, PhRMA, the American College of Radiology, and the Federation of American Hospitals, the trade organization for investor-owned facilities.

In February, the federation's CEO, Chip Kahn, took credit for coming up with the idea of forming PAHCF, according to Modern Healthcare. But while the American College of Radiology Association's 2018 tax return lists a $300,000 grant to PAHCF, the Federation of American Hospitals didn't disclose any contributions to PAHCF last year. It did, however, report spending more than $800,000 on "advocacy."
Business Group Spending on Lobbying in Washington Is at Least Double What's Publicly Reported [Andrew Perez, Abigail Luke and Tim Zelina/The Intercept]