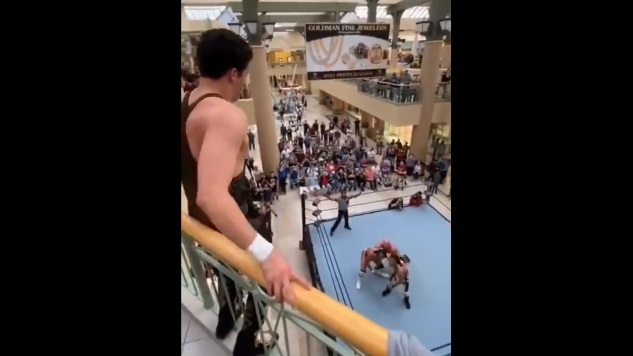 Watch this guy jump off the balcony of a Louisiana shopping mall in the name of wrestling.
What a stunt!
He's fine. As other pro wrestlers observed, shopping mall insurance just went through the roof, and it's unlikely that other sports stuntsters will be able to get away with this again.
I salute you, PJ Hawx.
From PASTE Magazine's writeup of the viral clip:
If anybody's figured out how to keep wrestling thriving for decades to come, it might be PJ Hawx. In a recent match for WildKat Wrestling at a mall in Louisiana, Hawx pulled off the kind of insane wrestling stunt destined to go viral and wind up on ESPN, despite being such an obscure indie wrestler that he doesn't even have a Cagematch entry.
My thought exactly. Someone from the legal department for the Mall had a heart attack and made a note to never host wrestling again.

— Lance Storm (@LanceStorm) February 10, 2020