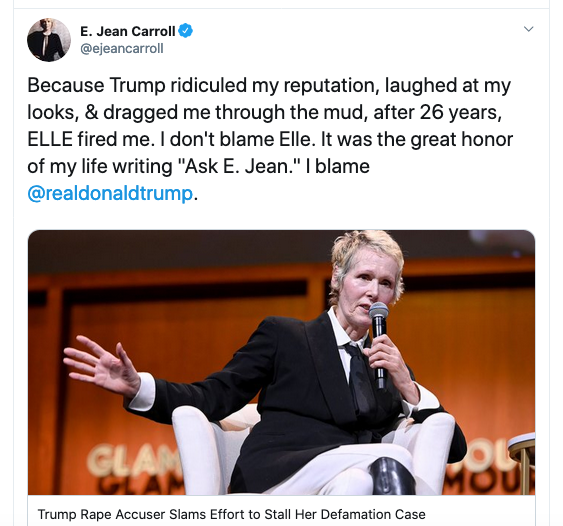 E. Jean Carroll, who has written an advice column at ELLE magazine for three decades, and last year accused President Donald Trump of raping her in the mid-1990s, today said she was fired from her longtime editorial position as a direct result of Trump's public debasement of her character.
"Because Trump ridiculed my reputation, laughed at my looks, & dragged me through the mud, after 26 years, ELLE fired me," Carroll wrote on Twitter. "I don't blame Elle. It was the great honor of my life writing 'Ask E. Jean.'"
Trump denies her rape accusation, as he has with all the other countless sexual discrimination, harassment, and abuse allegations, over these many decades.
From NBC News:
Carroll's announcement of her termination from ELLE follows her lawyers' move to block a request from Trump that her suit be delayed.

"Our client filed this lawsuit to prove that Donald Trump lied about sexually assaulting her and to restore her credibility and reputation. From the very beginning, Trump has tried every tactic lawyers can think of to halt this case in its tracks and keep the truth from coming out," wrote Kaplan in a statement. "His latest effort — a motion to stay our client's case until the New York Court of Appeals decides the Summer Zervos case likely after November 2020 — is yet another obvious delay tactic that is not grounded in the law and, like his previous attempts to stall this case, will be rejected by the court."

A court filing submitted Tuesday says that ELLE declined to renew her contract in December, thereby ending her "primary income." Carroll's final "Ask E. Jean" column was published on the magazine's website Nov. 22.

The court filing also includes an email to Carroll from Erin Hobday, the executive managing editor of ELLE, dated Dec. 11, stating that Carroll would be paid for the "five remaining columns" of her contract.

"We and your readers so appreciate your many years of work for the magazine and the wonderful columns you contributed to our publication," Hobday wrote. "We will miss you tremendously."
NBC News says Hearst Communications (which owns ELLE magazine among other properties) and Trump's counsel failed to respond to requests for comment.
Read more:
E. Jean Carroll fired from ELLE magazine following Trump rape allegation[Gwen Aviles, NBC News, Feb 19th 2020 1:11PM]
Below, on Twitter: ELLE criticized over Carroll's termination, with calls for (and responses to) a boycott.
Let's start a conversation with Elle. Use #NoWayInElle to let them know what this means to you and your wallet.

— Quinn Cummings (@quinncy) February 19, 2020
Just cancelled my digital subscription to @ELLEmagazine because of this.@ejeancarroll column was the first thing I read.

— ellie moccia (@booshabear) February 19, 2020
[via Quinn Cummings]