Kindle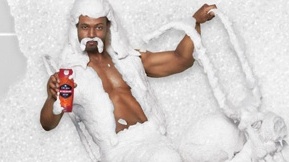 The internets are abuzz with praise, wonder, and hearty LOLs over a savvy online marketing campaign for Old Spice by ad firm Wieden+Kennedy.
Old Spice Guy appears in a number of YouTube videos, and creates response videos to high-profile bloggers, Twitterers, and "internet influencers." Like my friend Susannah Breslin, who'd written about the campaign previously. And Alyssa Milano, Demi More, Ellen DeGeneres, Apollo Ohno, Ashton Kutcher, and the glamorous babes at Gizmodo (hello, girls!)
Everyone loves linklove, and so those he shouts out tweet and blog about having been shouted out, and a potent meme spreads. [ Read more here about how the ads are created. ] I agree with popular consensus: it's one of the most cleverly executed online ad campaigns ever. I have laughed at each one of the videos I've seen. And I now have a crush on Old Spice Guy, actor Isaiah Mustafa. And a nascent foam fetish.
But Old Spice Guy now has competition. His name is @OhDoctah. My heart be still. This is quite possibly the best YouTube video of all time. Watch the video here.
When I watch the video, I see this inside my mind.
(Thanks, Quinn, and @Beschizza. Disclaimer: I was paid to speak at an "A plus K" event earlier this year, but they didn't tell me anything about this campaign, or ask me to blog this, or recompense me in any way for doing so. However, I do admit I wrote this post with secret hope Old Spice Guy would video at me. Or @ohdoctah. A girl can dream.)
Boing Boing editor/partner and tech culture journalist Xeni Jardin hosts and produces Boing Boing's in-flight TV channel on Virgin America airlines (#10 on the dial), and writes about living with breast cancer. Diagnosed in 2011. @xeni on Twitter. email: xeni@boingboing.net.
More at Boing Boing