Kindle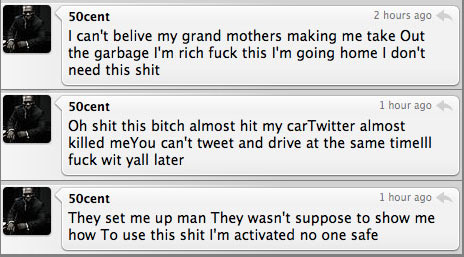 Skimming through rapper 50 Cent's Twitter history, one can instantly determine the point at which handlers ceased managing the account of late, and the hiphop star took things over himself. About 9 days ago.
Today, either his account has been hijacked by a prankster, or he's having a particularly rough day.
Update: Spoke to someone at Twitter, they've reached out to his management and confirmed that his account is just fine. Not a security breach. I'm a follower for life, man, this is the best ish ever. Move over, @kanyewest.

[via Attackerman]
Boing Boing editor/partner and tech culture journalist Xeni Jardin hosts and produces Boing Boing's in-flight TV channel on Virgin America airlines (#10 on the dial), and writes about living with breast cancer. Diagnosed in 2011. @xeni on Twitter. email: xeni@boingboing.net.
More at Boing Boing