Kindle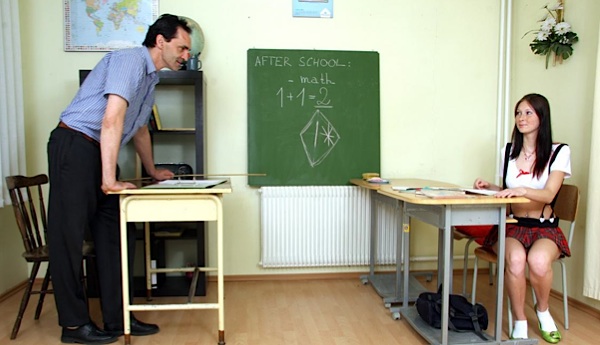 There is now an entire blog dedicated to looking at what is written on the blackboard in the background of naughty schoolgirl porn films, and evaluating it for accuracy and grade level of information. God, I love the Internet.
Here's what Blackboards in Porn had to say about the photo above.
AFTER SCHOOL:

- math

1 + 1 = 2

1*

Mathematics - university/nursery school level.

This is clearly an extremely advanced level mathematical course, focusing on the Peano axioms for the natural numbers which formalised mathematics in the late 19th century. This course would culminate with Gödel's second incompleteness theorem which shows that the consitency of the Peano axioms cannot be formalised within Peano arithmetic itself.

Alternatively, it could be that the pupil, even at her advanced age, hasn't grasped that 1 + 1 = 2, and that all the after school one-to-one lessons in the world aren't going to work. Indeed, she probably won't even understand what 'one-to-one' means.

8/10 - loses two marks for 'math'.
Disclaimer: The blog is safe for work, in so much as there is no nudity. However, it is somewhat astounding how easy it is to look at a photo of a room full of fully clothed people and know, immediately, that said photo is a still from a porn. Make of that what you will.
Via Wired. Thanks to Joel!
Maggie Koerth-Baker is the science editor at BoingBoing.net. She writes a monthly column for The New York Times Magazine and is the author of Before the Lights Go Out
, a book about electricity, infrastructure, and the future of energy. You can find Maggie on Twitter and Facebook.
Maggie goes places and talks to people. Find out where she'll be speaking next.
More at Boing Boing