Kindle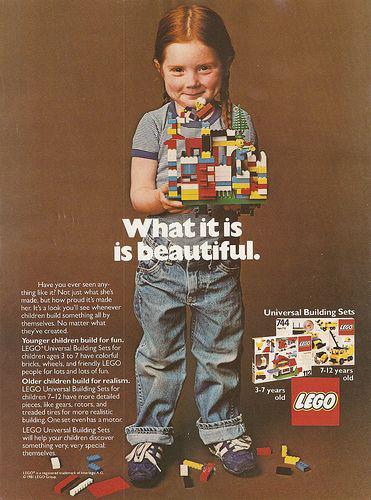 A couple of weeks ago, Mark told you about Lego's new line of products aimed at girls. It includes new minifigs that look more like dolls and cutesy playsets with names like Heartlake City. This week, Cory introduced you a little girl who is very frustrated with excessively gendered toys.
I played with a lot of Legos when I was a little girl. And, while I certainly liked dolls, that wasn't really what I used Legos for. (And, frankly, going shopping, playing house, and being "just like me" wasn't what I used dolls for. In my experience, games of playing house tend to involve a lot more violent interaction with pirates, Darth Vader, and Nazis than advertising to girls would lead you to suspect. First you put the baby to bed, then you defend her with your mad karate skills, right?) Ads like this old one from 1981 appeal to me a whole lot more than modern girlvertising. I've seen this ad passed around the Internet before. But the contrast with those recent reminders of who advertisers and toymakers think girls are strikes me as particularly timely. 
Thanks, L0!
Maggie Koerth-Baker is the science editor at BoingBoing.net. She writes a monthly column for The New York Times Magazine and is the author of Before the Lights Go Out
, a book about electricity, infrastructure, and the future of energy. You can find Maggie on Twitter and Facebook.
Maggie goes places and talks to people. Find out where she'll be speaking next.
More at Boing Boing