Kindle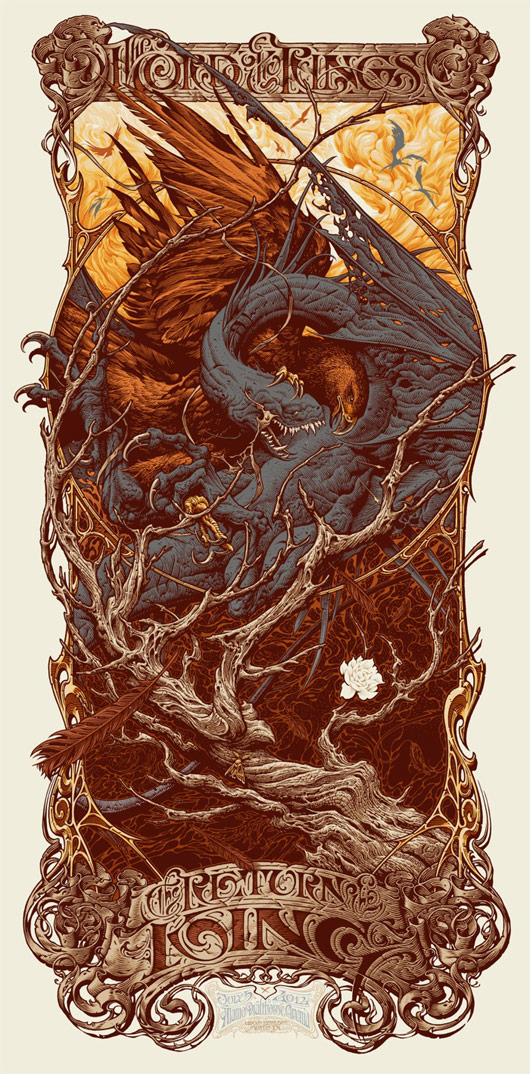 Check out this beautiful poster for Peter Jackson's "The Lord of the Rings," created by artist Aaron Horkey for Mondo, the collectible art boutique arm of Alamo Drafthouse Cinema. The print kicks off a series that will include all LOTR films, with work by multiple artists. I really want one, but alas, the poster was only available at last night's Drafthouse screening in Austin, TX. Here's an online gallery of Horkey's illustration work. Gorgeous stuff. He's from Minnesota, and from the sound of his bio, he's a happy mutant:
Key personality traits include debilitating social ineptitude and a perverse attention to detail. Also, believes himself to have been born 100 years too late. Enjoys desolation, megafauna and transplanting sumacs. Currently ensconced in a bucolic whistle stop just west of the Mississippi, he whiles away the hours writing of himself in the third person, staring at his chore list and cultivating ulcers.
Boing Boing editor/partner and tech culture journalist Xeni Jardin hosts and produces Boing Boing's in-flight TV channel on Virgin America airlines (#10 on the dial), and writes about living with breast cancer. Diagnosed in 2011. @xeni on Twitter. email: xeni@boingboing.net.
More at Boing Boing