Kindle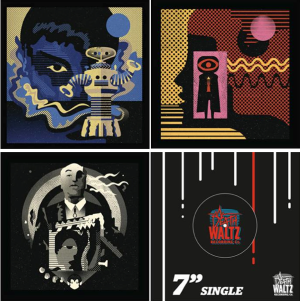 Death Waltz Recording Company is the phenomenal reissue label that deals in exquisitely-curated horror/cult soundtracks in gorgeous packaging like masterworks by John Carpenter, Alan Howarth, and Giuliano Sorgini. To my ear (and eye), label mastermind Spencer Hickman is doing everything right, from offering a subscription service for these limited objets d'art to packaging up special collectors' editions to picking unique vinyl coloring such as, er, "blood splattered."
In celebration of this year's Record Store Day on April 20, Death Waltz is releasing five limited editions that will only be available through indie record shops. Two of the releases are 12" vinyl: Antoni Maiovvi's "Yellow: Original Music From The Short Film" and "Horror Business - Steve Moore." But I'm really clamoring for the three split-7"s seen above emblazoned with stunning art by We Buy Your Kids. Top left, the themes from Star Trek and Lost In Space; top right, the themes from The Twilight Zone and The Outer Limits (listen above), and finally bottom left, Alfred Hitchcock Presents and The Munsters. Each 7" is an edition of 1,000 on colored vinyl and includes the inner sleeve seen above and a free art print card. Death Waltz Recording Company: Record Store Day
Read more in Music at Boing Boing
David Pescovitz is Boing Boing's co-editor/managing partner. He's also a research director at Institute for the Future. On Instagram, he's @pesco.
More at Boing Boing